Today I want to tell all the participants of Alimero my impressions of the brand hair care products Grandmother Agafi's recipes, which are made by the Moscow company First Solution.
I love cosmetics from natural ingredients and am very suspicious of shampoos, shower gels and other cosmetics from the mass market. The problem of shower gel, I decided for myself for a long time, just replacing it with a homemade. With shampoo, this number did not work out – I did not like the effect of popular recipes.
Looking through the assortment of the online store, I was interested in a rather low price and composition of the cosmetics brand The first solution. In addition, none of the presented products contained sodium lauryl sulfate and artificial flavors. It attracted me, and I decided to make a purchase.
Shampoo Cedar firming from the series For the bath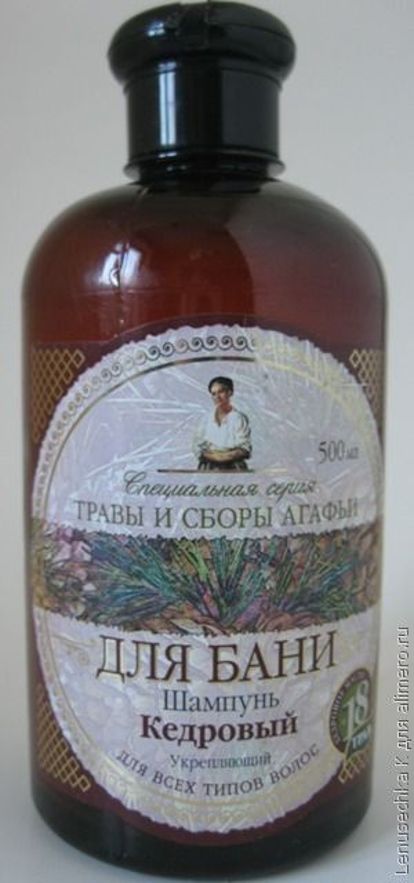 A bottle of shampoo with a volume of 500 ml cost me pretty cheap – 130 rubles. (35 UAH). According to the manufacturer, the shampoo contains a collection of 18 healing herbs, Siberian cedar oil, black currant seed oil, vitamins E and F, and many other extracts.
Harmful substances such as sodium lauryl sulfate or silicone in the composition is not stated.
The main problem of my hair was brittleness and fading after constant bleaching. After the first use of cedar shampoo, the hair became more pleasant to the touch, more silky and soft.
I had enough bottles of shampoo for two months. During this time, I restored my hair. They became silky and alive. Hair began to get dirty much less. I think that influenced this lack of silicone in the composition of the shampoo.
Yeast Hair Growth Mask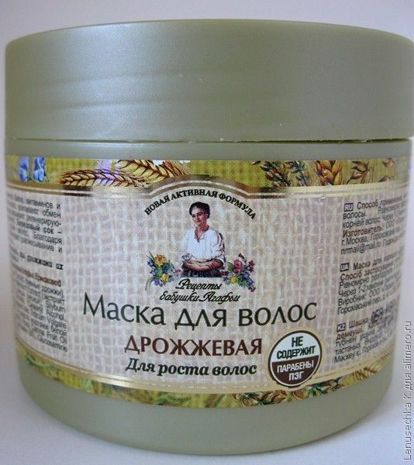 The cost of the mask is 120 rubles. (30 UAH), the volume of 300 ml. Suitable for all hair types. Created on the basis of wheat germ oil, brewer's yeast and birch sap. Again, neither lauryl sulfate nor silicones in the composition were detected.
The overall impression after using the mask is good. Hair after its application becomes softer and more docile, easy to comb. The mask has one drawback – it is a watery consistency. While you bring it to the hair, you will lose half of it. Therefore, it is consumed quickly.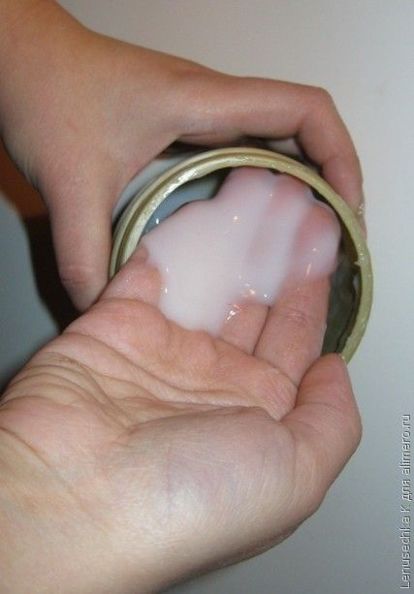 I'd like to hear your feedback on brand cosmetics Grandmother Agafya's recipes. What means did you use? What did you like and what didn't?