Beautiful hair wants to have everything, but not all succeed. Some people complain about the poor condition of the hair, but that's where all their actions end – they complained, and it became easier, but their hair was ugly and remained.
Today's topic for those who do not stop in the fight for the beautiful head of hair. And I chose a topic that is relevant for many people, because I know firsthand that dealing with the problem of hair greasiness at the roots and dryness on the tips is rather difficult.
Greasy hair? This is problem.
It all started with the fact that at one not very beautiful moment I noticed that I needed to wash my hair almost every day, since on the second day after washing they looked, to put it mildly, not very. Everything would have been perceived in the order of things, if it had not been for the fact that several months ago I was washing my hair once a week and this was completely enough for me and my hair.
I concluded that shampoo does not suit me. I had to throw out the remnants of shampoo and go to the nearest pharmacy for a new bottle of rescue cleaner. The choice was extremely great, but I went home with pride, as I had chosen a means for cleansing deep-acting hair in addition to a placental mask.
The pharmacist assured that now I can participate in the competition for the most beautiful hair. After the first application, I did not expect a tangible result, because I understood that it was impossible to defeat the problem in one go. There was no result even after 3 weeks of using the super-remedy.
I had to look for an alternative to expensive shampoos. Then I found grape seed oil.
Oil masks for oily shine oily hair?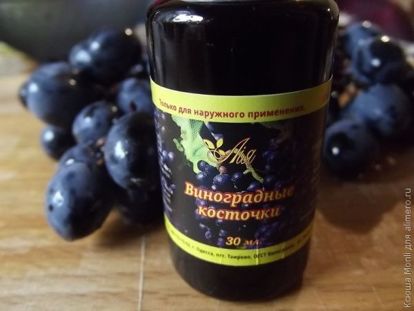 Many can not even imagine that oil masks can help against the greasy hair at the roots. But, unfortunately, not all oils will do. There are light oils that help make hair healthy even after several procedures without leaving a greasy luster after application. Among them in the list of the first is grape seed oil.
It includes such a vitamin complex (E, A, B1, B2, B3, B6, B9, B12, C), which promotes healthy hair. Due to this property, grape seed oil is the basis for expensive masks in salons. It is not surprising that after 3-4 health procedures in the salon, the hair becomes beautiful, and the money thrown away for salon procedures is no longer a pity.
Today I will tell one secret, after which you will not need to use the services of hair restoration salons. I hope you will like it as well as me, although everything is individual.
To start the procedure you need to wash your hair using shampoo. After mixing 4 tbsp. grape seed oil with 4 drops of essential oil suitable for your hair (essential oils of bergamot / lavender / cypress or cedar / rosemary / grapefruit / sage are suitable for oily hair).
Heat the mixture in a water bath or in a microwave and apply it on the hair, rubbing it into the roots. We put a plastic cap on our head and leave the mask for 15-60 minutes. Wash off the mask with warm water, ending the procedure by rinsing the head with cool water.
We make a mask 2-3 times a week and after 4 applications we enjoy the beauty of healthy hair!