When I learned that gelatin is used not only in the production of food, medicinal capsules and printing ink, but also in cosmetics, I decided to try it on myself.
One girl shared with me a gelatin-based mask recipe. She is the owner of hair almost to the waist and successfully uses this mask.
I have not tried this mask at such a length, because hair, after I grew my color using a mustard mask, I now have to the shoulder blades.
The task of the gelatin mask is to give the hair volume. I never thought about it. I do not wear short haircuts, so I never needed some kind of super volume.
But once I bought Natura Siberica shampoo. I really liked his hair after it – soft, silky, pleasantly smelling. But, alas, it was not something that did not give volume to my hair, but in my opinion, even my natural volume was eliminated.
I didn't want to refuse from this shampoo, however, and I decided to try on myself the mask that I was advised.
By the way, this is not just a mask, but a mask-shampoo. Those. After use, the hair can be simply rinsed thoroughly with water without using detergents.
The composition of the gelatin shampoo mask:
– 1 raw chicken egg
Add egg to gelatin and mix well until complete dissolving gelatin.
Attention!
The quality of the gelatin and how well you stir it, the success of the mask depends.
Unfortunately, lately I have not come across gelatin of a better quality. Even when preparing desserts, it did not always dissolve completely and sometimes pieces were felt = (
And to wash it out of the hair as part of this mask was also not easy. Therefore, now I treat the choice of gelatin with great attention, and try not to take untested companies.
I beat the gelatin with an egg whisk. So it is better to achieve a uniform mass.
Then it remains to add shampoo to the mass. Here I already stir with a spoon (specially allocated for cosmetic manipulations) or a fork handle. It is only from those considerations that the whisk does not smell like shampoo.
The mass should be homogeneous.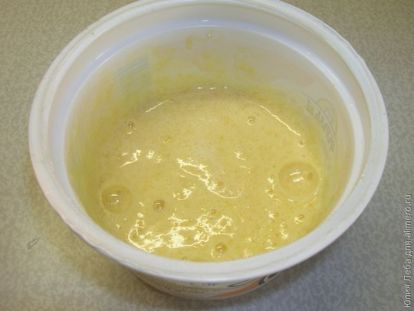 Mask-shampoo should be applied to the hair along the entire length and leave for 10-15 minutes. I fasten the hair with a crab and wear a plastic hat.
Depending on the consistency of the shampoo, the mask may be thicker or thinner. With a more liquid version of the mask can drain from the hair, so it is better to throw a towel over this time.
As I wrote, because it is a shampoo mask, you can simply carefully rinse with barely warm water, preferably at room temperature.
If you feel that the mask is washed out badly or that the hair is not clean enough, you can apply shampoo or conditioner to it and rinse it off after a minute.
To enhance the effect after you blot your hair with a towel, removing excess moisture, you need to comb them first simply, and then tilting your head down. And repeat combing with bowed head with a break of a few minutes until the hair dries.
It is better to do this by leaning over the bathroom or sink, so that you do not collect hair all over the apartment =)
After applying this mask, the hair becomes soft and lush!
I have another recipe for the gelatin mask. I use it much less, so the first recipe is much easier and faster.
The composition of the gelatin mask:
– 3 drops of essential oil (optional)
Gelatin pour water and leave for 1 hour. Heat the swollen gelatin in a water bath, it must be completely melted.
Add shampoo (or hair balm), and if there is a desire, the essential oil. It is better to make sure that the fragrance of the shampoo is combined with the aroma of essential oil.
Apply a mask to the hair along the entire length. Close the plastic cap for half an hour. Rinse with barely warm water. You can rinse with acetic acid water. The result – voluminous hair!
Both masks are suitable for all hair types.
Have you used masks with gelatin?