I love to try new cosmetics and various personal care products, including new shampoos. But sometimes my experiments are not entirely successful, for example, a new shampoo is poor quality or just unsuitable for me, and as a result of this dandruff appears.
Also the causes of dandruff can be:
– Tight long-term diets, which result in a lack of vitamins A and group B
– violation of the microflora of the digestive tract
– weak immunity, stress
– shampooing in very hot water
– and even cold winter weather
Unfortunately, dandruff itself does not pass with the same ease as it appears, it is necessary to wage a separate struggle with it.
Today, on the shelves of shops and pharmacies, you can find a lot of medical shampoos and balms that promise to get rid of dandruff immediately after the first application. If this were true, then, I think, the problem of dandruff would be over.
But very often you have to buy whole sets of special tools that do not bring the expected effect either after the first or after the tenth application. And if dandruff still disappears, then it is necessary to abandon these funds and return to using your regular shampoo, as it instantly appears again, sometimes even with a vengeance.
Therefore, To get rid of dandruff, I use folk methods. They are very simple to prepare, natural and affordable – most of the ingredients can be easily found at home. Unlike purchased store, natural products, prepared at home, do not contain various chemicals, which very often cause dandruff.
In addition, folk remedies help not only get rid of dandruff, but also have a positive effect on the hair itself – make it alive and help fight hair loss.
Folk recipes

I tried on myself some simple recipes that do not require much time and money, but, nevertheless, are very effective in the fight against dandruff.
– Mix 1 tablespoon of calendula spirit tincture with 1 tablespoon of burdock oil (I sometimes use castor oil and add a few drops of wheat germ oil to it) and massage into the head with massage movements.
– 4 tablespoons of olive oil a little warm in a water bath, mix with the juice of half a lemon. The resulting mixture to rub warm for half an hour before washing your hair.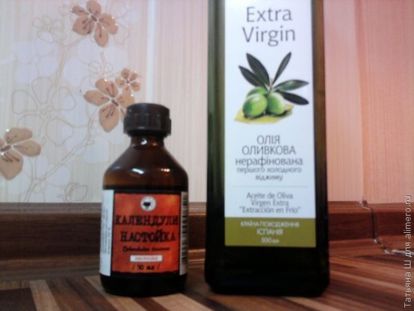 – Before each wash, simply apply burdock oil on the scalp and hold for 15-20 minutes. It helps not only get rid of dandruff, but also with regular use enhances hair growth.
And if you mix in equal parts burdock and olive oil and apply this composition to your hair, they will shine, and with regular use will help reduce the number of split ends.
To dandruff as rarely as possible reminded of yourself, there are a few simple tips:
1. All green vegetables, leafy salads, parsley, cereal and wheat soups, walnuts and coconuts, eggs are useful for healthy hair and scalp.
2. It is better to wash the head with moderately warm water, a little cooler than the one in which we usually bathe.
3. A light massage of the head while washing for 5-10 minutes will improve blood circulation and nutrition of the hair.
And what do you use folk remedies for dandruff?