Good evening to all participants of Alimero! Recently, my daughter and I returned from the anniversary of our beloved grandmother. My daughter carefully prepared for this day: she herself made a gift and chose a dress for the celebration. I just had to pay for the purchase and come up with a festive hairstyle;)
Since it is summer on the street, and the celebration was coming with music and dancing, I decided to pick up my hair higher so that my daughter would not be hot. I did not consider the option of the gulky, – simply, trite, not interesting. I wanted something beautiful, but not difficult to weave.
And then I remembered the hairstyle that my mother often made me as a child. It is called Chrysanthemum. I often did her daughter in kindergarten, so for a solemn occasion I decided to change her a little. I hasten to show you what I did.
So, get down to work. We separate a strand about 3 cm wide along the forehead line. We collect the rest of the hair in a ponytail; they will not be useful to us yet.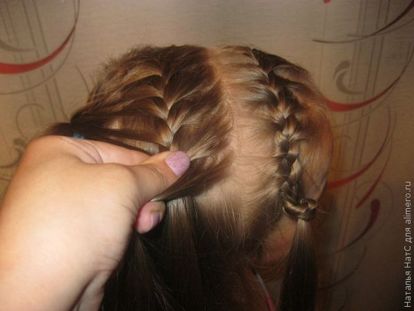 Make sure the tail strands are the same thickness. If the child has thick hair, strands can be taken thicker. But if the hair is thin, like my daughter's, separate the thin strands, otherwise the hair may simply not be enough until the end of the weave.
When we reach our knot, pick up its edge instead of a free strand of hair: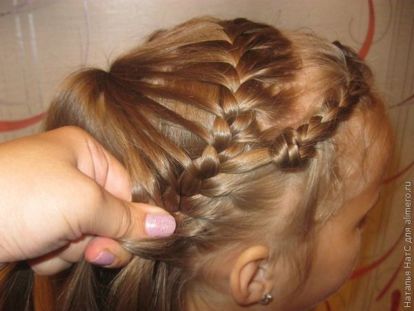 Thus we continue to weave in a circle.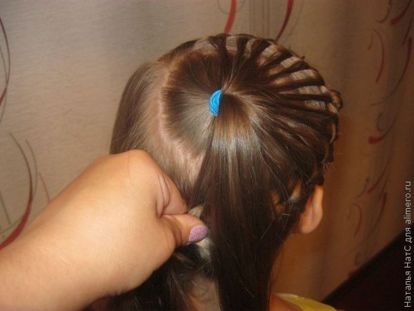 When the last strands are picked up, we end up with the usual oblique to the end, we fasten it with a thin silicone rubber band.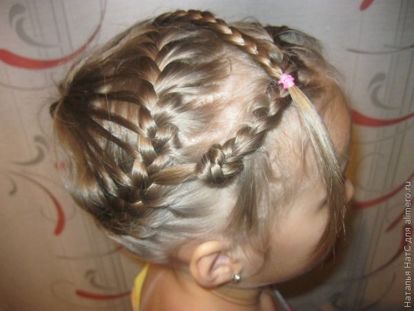 Now our task is to hide this pigtail under our chrysanthemum. So that the hairstyle does not fall apart, I fasten the junction with an ordinary hairpin, threading it through my hair with several stitches. You can use any hairpin instead. It can even be decorated with a large flower. I wanted my daughter to have no jewelry in her hair, so I didn't use hairpins. Our hairstyle is ready!