In general, I am a very impatient person in some things. To be honest, I myself do not like it, and sometimes it really hinders. This quality is manifested in many things. In appearance too.
I began to paint with high school. And so far there has not been a chance for me to fully grow my hair color. I must say, there were lots of attempts. But it did not work out.
It's good if I grew 10 centimeters, or even earlier, I rushed to the hairdresser on the wings. Recently I decided to take a break in dyeing with ordinary paints and stumble by this balsam. It costs 83 rubles for 150 ml.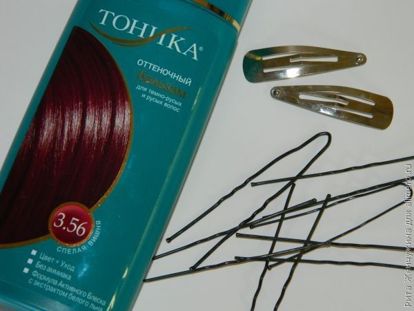 Actually, I was stupid. I went to the store in the hope that I would choose a shade there. Now there is the Internet, manufacturers' sites, where you can see all the available options.
Perhaps you will tell me that you can choose a color on your computer, but if you come to buy it will not. It's simple: you need to pick up 5-10 favorite shades, write out their numbers with the names and go ahead. Something from this list will definitely be.
To be honest, this time I was too lazy to do it and paid for it. I waved my hand, I think, because I hoped that the color would wash off quickly anyway.
I must say, I initially wanted something close to copper. But there were no such shades. Then she looked different brown-haired. I saw only two and then some pale. I stopped at the following: Tonic Ripe cherry 3.56.
The trouble is that he immediately seemed to me like not to the soul. I repressed that feeling and bought it anyway. I liked the other shades even less. I got a dark color with a red tinge. To be honest, he did not particularly remind me of the cherry.
Smell and consistency
Unlike ordinary paints, I think the smell of Tonics is even pleasant. Harsh at first, but it's nothing. The consistency is also good, I think.
Impact on hair
Tonic works well on my hair. They become heavier, become more obedient, shining. It seems that there is no ammonia in it (I did not find it as part). Therefore, we can assume that it acts softer than paint.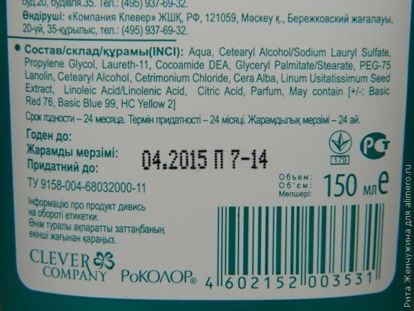 Only the hairdresser warned at once that you can keep for a maximum of half an hour. If more, you can still burn your hair.
It is washed off somewhere after 8 washings of the head. It is also not up to the end, like paint. If you then do not paint again, light shade will be another month for 4 exactly.
My findings
I like in Tonic its lesser harm compared to paints. Also the fact that it can be used between dyes by other means, and even on streaked hair. I do not like the fact that the kit does not include gloves and a fixing balm. But if you choose the right shade that you really like, then Tonik can be considered a very good tool.