I have always been careful about the choice of hair color, relying on the advice of his master and personal feelings. And I realized a long time ago that not always high prices indicate good product quality, and vice versa.
In this topic I want to tell my impressions about the colors of Garnier. I love this company, I like many products. Therefore, there are funds that I take from times to times, year after year.
Garnier color naturals
Hue 460 – Flaming Ruby.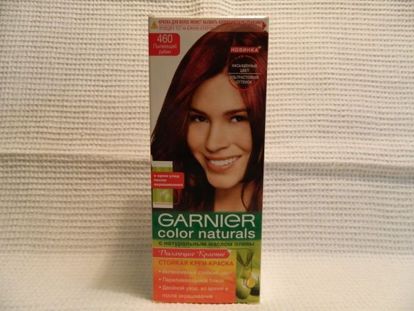 The promised ultra-resistant shade is achieved due to the fact that the paint belongs to group III, i.e. is resistant, and not washed off for at least two months.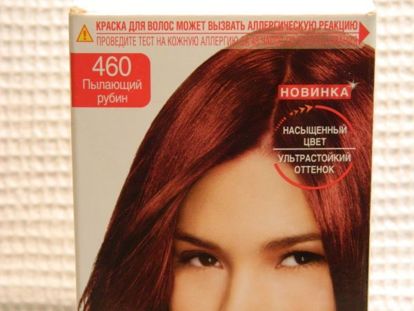 As with any paint, Garnier color naturals can cause an allergic reaction, so a test should be done during initial use. This warns the manufacturer on each package of paint.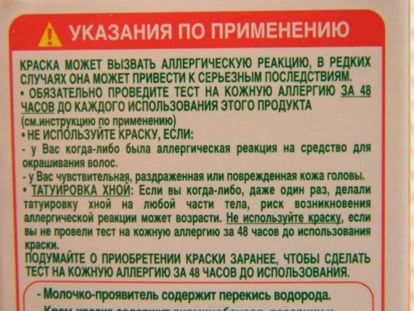 My mother and I often use it, so the test is no longer an item, we know that everything is in order, the reaction to the components is normal.
The manufacturer does not give any unrealistic promises. Everything is actually true – the color is saturated and durable, the hair shines.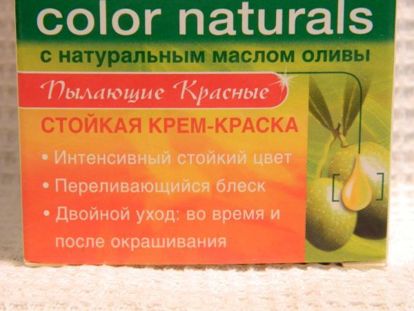 As for the care, I believe that if it is even possible at dyeing, then Garnier color naturals really does everything possible.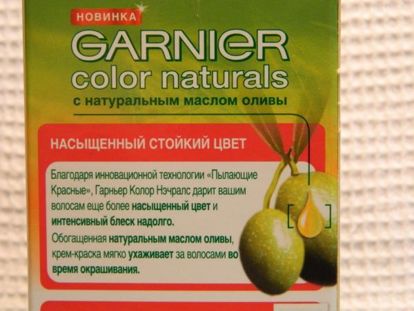 The pack of paint contains: cream paint, developer milk, care cream, gloves, instructions for use. Price around 90 rubles.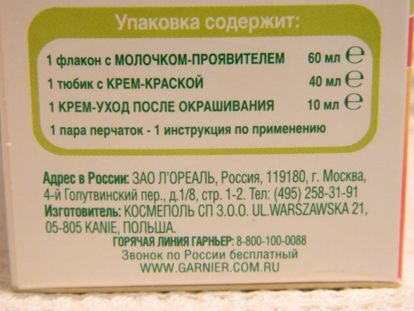 This package is enough for me when the hair is shoulder length. But for a long time I wore a length slightly below my shoulders. It was uncomfortable, I had to take 2 pieces. Paint turned out to be abundant, but one was not enough.
I didn't dye my hair myself, but for home use, you must read the instructions.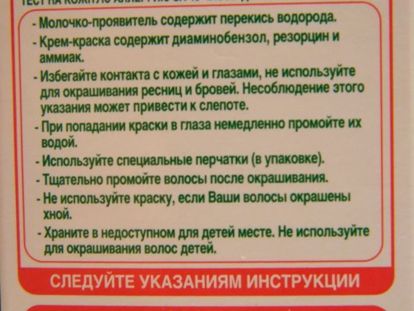 I remember when I painted myself once with a tonic. He just got in the eye. In addition to the unpleasant sensations, I got a red hue of the lenses (to match the hair). Optically properties did not seem to deteriorate, but the video view was still the one that had to be thrown away.
The composition of all components is specified in detail and, as they say, readable. But traditionally not in Russian.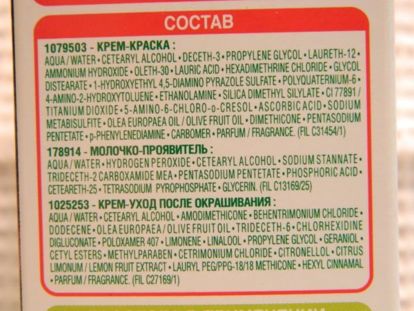 For those who paint themselves, in addition to detailed instructions inside the package is also common.
As with all colors, the intended result of dyeing is also shown, depending on the initial hair color. Although, frankly, it does not always reflect reality.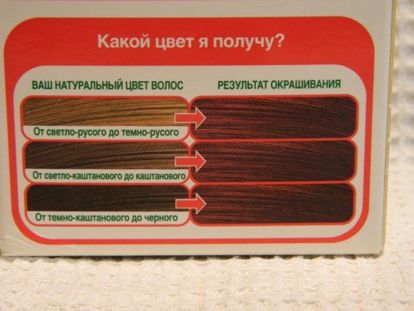 I bought this paint for my mother, so there was an additional task – to paint over gray hair. Garnier successfully handled this!
In Garnier color naturals, I like the fact that a handy tag is made with the name and number of the shade. Easy to store in your wallet =), using when needed.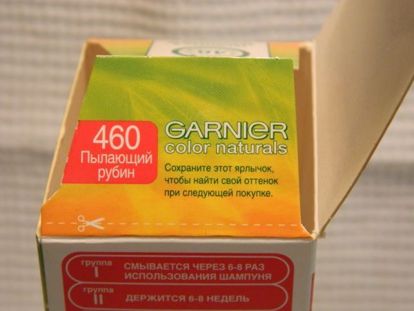 So, to summarize.
– bright saturated color
– firmness when coloring
– removes excess oily hair
– does not make hair stiff
– unpleasant, though tolerable smell (actually, like all paints)
– the stated color result (based on its color) does not match the photo
– the length of the paint just below the shoulders is not enough for a tube of paint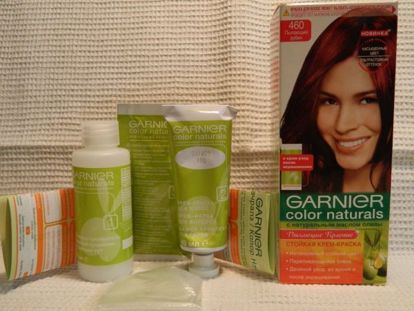 Conclusion:

In my opinion, Garnier color naturals is a good paint. I like the way hair does after dyeing. Brilliance, normalization of fat secretion, and also – oh, a miracle, they can be laid! Even bangs))
My mark: four plus.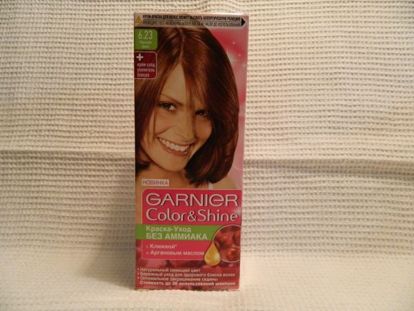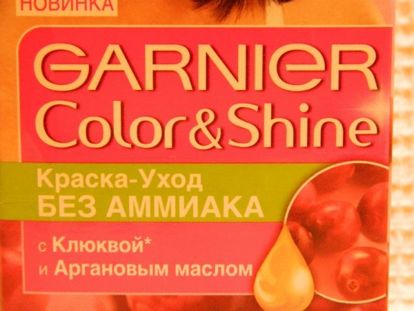 This paint is in group II, i.e. lasts 6-8 weeks. In this case, even counted the period during which it will not wash off. The calculation is based on the frequency of washing the head.
By simple calculations, I immediately took it – 8 weeks, 28 uses of shampoo … that is, it is designed for washing every other day. I wash my head less often, but my color lasted less than 2 months.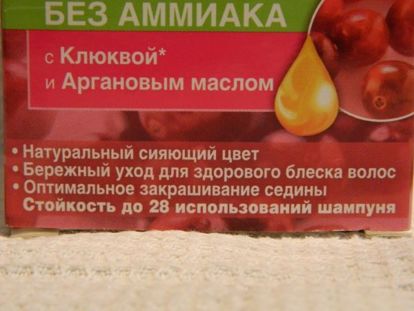 As for gray hair, in this case I can not say with certainty. Since I bought this paint for myself, I took 2 packs, as usual. But during her stay with the master she changed her mind, cut off, as a result, one tube of paint was enough. The second, respectively, remained.
Allergy warnings are the same as in the color naturals series:
The content of the packaging of the dye is the same, except that the difference is that the care cream here has its own direction – for shining hair. This is understandable, based on the series: shine – translated as light, i.e. in this case, shine.
Price of this series turned out to be slightly higher than color naturals – 120 rubles.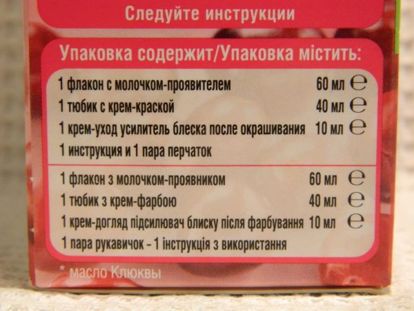 The composition of all components is also indicated on the package: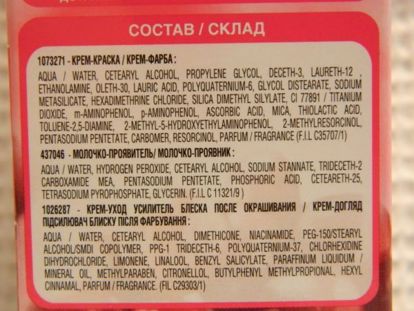 The manufacturer focuses on the usefulness of paint due to the absence of ammonia and argan oil and cranberry extract.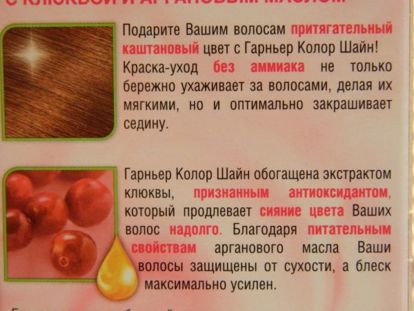 The traditional photo with the expected results, to which I am skeptical. At least due to the fact that there are only three options.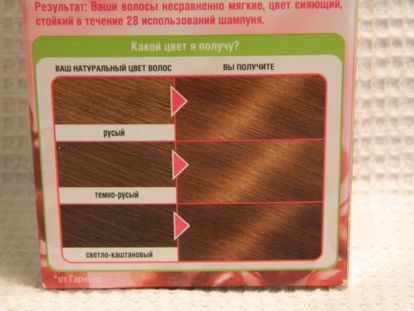 So, to summarize.
– the paint falls on the hair rather gently
– aligns the lipid balance of hair
– the presence of cream-leaving for shine
– the smell is less pungent than usual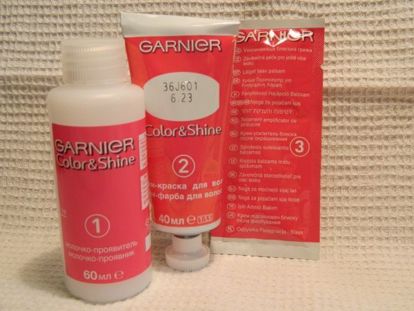 – color is washed out quickly
– also the declared result, based on its color, is unreliable
– I can not call the resulting color saturated, unlike the color naturals series.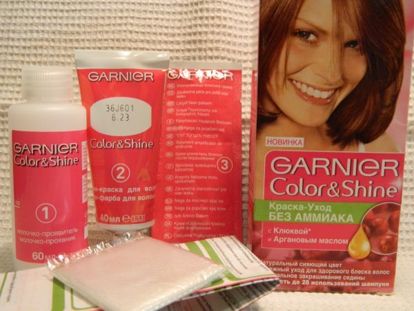 When I took the paint, I did not notice that it belongs to group II, and not to resistant paints. For me, this is a minus. I'd rather tolerate the ammonia smell, but the color will be more persistent and bright in its tint range.
However, the effect of dye on the hair, I was pleased. One indisputable plus – after painting, they are more obedient. Actually, that's why I wear bangs only if the hair is dyed.
My assessment of this paint: four.
In my opinion, Garnier paints are rightfully on the market and are popular. And I am sure that I'll buy these cream-colors more than once both for myself and for my mother =)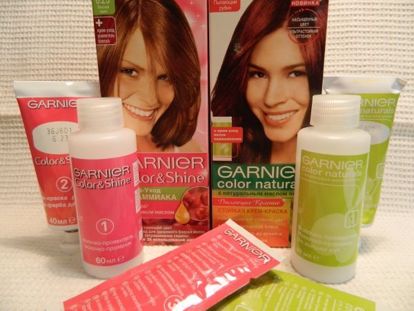 And how do you feel about paints Garnier?