All owners of straight hair sometimes dream of beautiful curls. Of course, you can make a perm or biowave, but not all are solved. The easiest way to get beautiful curls is to curl your hair with curlers.
If you look at the cosmetics store, you can see the whole variety of modern hair curlers. Is it really necessary to buy everything in order to finally make your choice? If you do not want to spend a lot of money and time, then I will help you a little. I tried, perhaps, all known types of curlers.

Plastic curlers
Since childhood, I have seen my mother, after washing her head, carefully winding each strand on the simplest hair curlers. From time to time I wore them myself from time to time, before performances in a dance studio. And honestly, I just hated them. After all, you had to sleep all night on hard, uncomfortable curlers.
Of course, they have the main advantage – ease of use. But a big drawback – the inconvenience during sleep, and put such curlers is best for the night. Fortunately, with the advent of more modern curlers, plastic precursors have stepped aside.

Thermo curlers
These I used only once. Their main advantage – curls turn out quickly, in 20-30 minutes. But, too much trouble with them. Yes, and the heat adversely affects the hair.
Before use, heated hair rollers are heated in boiling water. By the way, electro-curlers are very similar to them, which heat up in a special device.
If you want to save time, then of course, you can use them. I prefer hair care.

Foam rollers
Very similar to the classic plastic curlers, with the only difference that they are soft. Sleeping on them is much more comfortable, but during sleep, hair can take on an irregular shape. With the advent of new types, I stopped using such curlers.

Velcro curlers
I did not have to use them, as they are more suitable for short hair. But my sister is not delighted with them, he says, her hair is confused when you take off the hair curlers. But the curls are quite beautiful and neat.

Curler boomerangs
Until recently, they were my favorite. Screw them very conveniently. In addition, boomerangs are of different thickness. I have two types of such curlers: small and large diameter. Depending on the desire and mood, you can get different curls.
Due to the fact that they are made of foam rubber, sleeping on them is quite comfortable. And it's easy to shoot, my daughters even help me.

Magic curls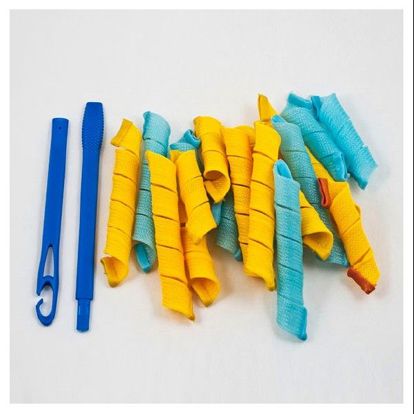 Recently, I purchased new hair curlers – magic curls. For me, they were almost perfect. They have a lot of advantages.
They do not need to be wound, you just need to thread a special hook into the inside of the spiral, it is also very easy to remove them. They do not interfere with sleep at all, as they are made of lightweight material.
But for me there is one drawback. My hair is long and does not get curls from the roots. Hopefully in the future, manufacturers will take care of owners of long hair. In the meantime, if I want to curl the entire length, I use boomerangs.

We wind the curlers correctly
To get beautiful curls, you need not only to choose the right hair curlers for you, but also to use them correctly.
Before you put the curlers, you need to wash your hair and dry your hair. They should be wet, but not too wet. You will also need a comb with thin teeth to make it convenient to divide the hair into strands.
Strands must be the same thickness. The thinner the strand, the finer the curl will be. You need to twist tight enough, then the curls will be more elastic. You need to start curling in front, gradually moving to the back of the head.
To get more resistant curls you need to use foam or hair mousse.
I prefer to do a perm for the night, in the morning beautiful curls are obtained. I wonder what kind of curlers you use?