It would seem that it was summer, and many vitamins were eaten with fresh fruits, berries and vegetables. Why did the hair not become beautiful and not shine with health? Why after each combing they fly out like a dandelion from the wind?
I would not want to stop in a bald dandelion, who was already patted by the wind. I imagined this picture and was horrified (my fantasy is very well developed). After a fantastic horror film, I got together and went to the pharmacy to a familiar pharmacist.
On the shelves of the pharmacy, there were all sorts of remedies. All of them argued that once you start using this secret tool, a mane will immediately grow on your head, which all passersby will admire. I was not used to believing such an advertisement, so I immediately went through the colorful shelves to the pharmacist.
This pharmacist became familiar when I went to the pharmacy and instead of a long list of expensive drugs, I received a box of herbal tea. It was difficult to trust this type of treatment, but I decided to try and look after my health. Then tea cured me, and the very next day I came running with words of gratitude and chocolate. And we are friends: she advises me what she thinks worth attention, and I sew her and knit to order, making discounts.
Complex hair oils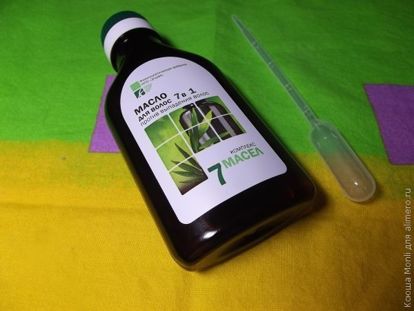 So this time the pharmacist advised me a means to strengthen and heal the hair Complex 7 oils. It consists of burdock, castor, linseed, rosemary and cedar oils, avocado oil and shea.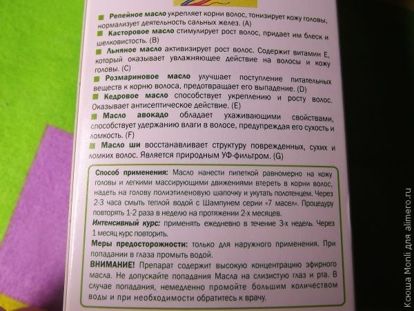 Hair oil is intended for weakened hair prone to hair loss. The oils nourish the hair roots, envelop the hair itself with an invisible film and prevent the loss of natural moisture. Therefore, the complex immediately cope with dryness and brittle hair.
And oils are also designed to supply the hair follicles with oxygen, as they stimulate the microcirculation of blood. Due to this, the nutrients of oils can strengthen hair faster.

The oil is applied to the scalp with a special pipette. After applying the oil you need to rub into the hair roots with light massage movements (another plus of this method of healing). A plastic cap (or a bag with handles) is put on the head and wrapped in a towel.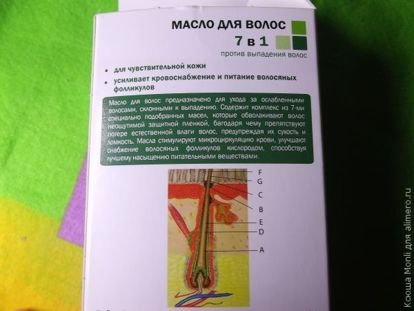 In such a pretty way you need to go about your business for 2-3 hours, after which you can wash off the oil with warm water and shampoo. The procedure can be repeated 1-2 times a week for 2 months.
My impressions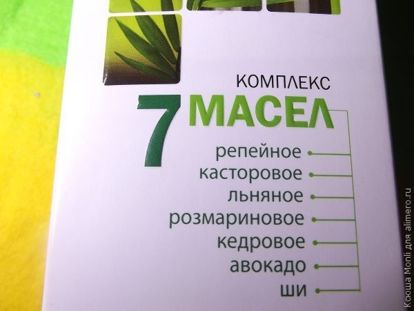 A month has passed after the purchase of this tool. My hair after the procedures have become less flowing and look more healthy. I will use it for another month to evaluate the result after undergoing a full course of treatment.
The only negative is that the hair immediately after the procedure does not look very clean. It takes a long time to flush the oil to get rid of such a moment. Otherwise, the next day you have to wash your hair again (without oiling it).


The smell of such composition of oils can be considered a plus – it is very fresh and pleasant. This natural smell often soothed me (if you close your eyes, you can imagine yourself in the forest).
It is very pleasant to love and take care of yourself, because besides the beauty that you see in the mirror, pride in yourself wakes up. It is so nice to be a wizard for yourself and transform yourself, contrary to natural phenomena, from a bald dandelion into a bright flower.