I purchased the clay. And now I do various face masks. The effect suits me a lot. If it acts so well on the skin of the face, then it should have a positive effect on the hair? And I decided to try.
And while making hair masks, I was convinced that this is a wonderful spa treatment. Easy to prepare and use and affordable. I liked that it is very nice and no less effective! And I am very pleased with the results after the mask. As I said, I made facials. But I decided to use masks for hair.
My problem hair
As a teenager, I constantly wanted to experiment with my appearance. Not surprisingly, I was a rocker, and a blackjack, an informal one. She wore dreads, torn jeans and T-shirts, dyed her hair in different colors of the rainbow … It was done on a dispute or simply from doing nothing. Thank God I didn't do the piercing and the tattoo. Although many, and this is incited! There is something to remember, as they say …
What then only my mom was experiencing! I do not know how I would relate to this. She constantly told me that I simply scoff at myself and do not pity her. She didn't even go with me (like other girls with my mother by the hand). And it was somewhere in the 100-meter distance.
What is it for me? Yes, I just did not listen to my mother … And now, I am paying for my disobedience. The hair was just disgusting. But after childbirth, hair falls out with terrible force, splits (even making regular haircuts) and looks lifeless. I decided that I really needed to do something about it!
I discovered clay hair masks
I have no money for professional (of course, expensive) cosmetic hair care products. And I decided to use clay for hair treatment. This is an affordable tool.
I read that cosmetic clay solves many problems: it gives shine and strength to hair, heals split ends, accelerates hair growth. Clay nourishes the scalp, strengthens and moisturizes the hair, giving them a noticeable shine and volume.
I also noticed that cosmetic clay dries hair when it is too greasy, and moisturizes it if it is too dry (if it is reasonable to pick up the ingredients). In an accessible form, clay can be purchased at a pharmacy. I also saw her in the departments of cosmetics in stores and supermarkets.
I do clay hair masks twice a week. Earlier, I had to wash my hair every day (they quickly got dirty and hair got greasy), but now I wash them every other day. This means that the clay removes excess fat and shine (as well as on the skin), slightly dries the scalp. But for my hair, this is perfect, especially since it's summer.
Here are my masks. Hope you try them.
White Clay Mask

White cosmetic clay ideally treats damaged hair. Helps to cope with loss and breakage. I was looking for effective recipes, because I think that I have a very neglected problem. Of course, they need to be done regularly, at least once a week. I alternate them: 1 week – a mask from white clay, 2 week – from blue, etc.
2 tbsp. l clay mix tc 2 tbsp. l burdock broth. Burdock root I bought in the market from a granny, but in general, of course, it could have been collected by myself (I forgot to dig it in May). And on the market you can find a collection for hair. There, as part of not only burdock root, but also chamomile, calendula, yarrow. It costs about 20-25 UAH.
I put this mask on my hair. I try to keep as long as possible. If I'm off, I'll keep her hair in the afternoon. Well, if I am in a hurry, then 2 hours is quite enough, I suppose.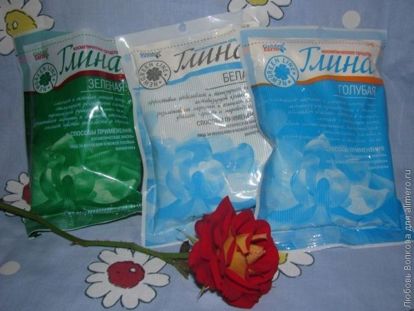 Blue Clay Mask
Blue clay is very popular and is considered to be effective by right. It treats hair loss, treats their fragility and accelerates growth.
1 tbsp. l clay mixed with 1 tbsp. l castor (burdock, olive) oil. Add 1 egg yolk, 1 tsp. lemon juice and natural honey. Honey makes its healing functions: softens hair, gives it volume and shine. Burdock oil and clay strengthen hair and nourish the scalp well.
Green Clay Mask
Green cosmetic clay copes with problems such as dandruff, itching, hair loss. Various ingredients can be added to it. I added to 2 tbsp. l clay 2 tbsp. l kefir (yogurt) and 1 egg. Such a mask dries quickly, so I lightly soak it with water or spray a decoction of herbs from the sprayer.
To add a curative effect, I recommend rinsing the head not with plain tap water, but with a warm decoction of herbs. They strengthen hair, add shine and promote their growth.