Chamomile is so universal a plant that it can be applied in a wide variety of fields, starting with rinsing the mouth and adding it to baths for bathing babies and ending with drawing up hair care products. I want to tell a little about them.
Shampoos based on chamomile decoction
These shampoos are very easy to prepare. In addition, with constant use, they visibly lighten the hair, and also add shine.
Method one. 3 filter package chamomile poured about 1/3 of a glass of boiling water, cover and cover with a towel and leave to leave. When the infusion has cooled, it should be added 5 drops of lemon juice.
Then we mix the infusion with baby shampoo and my head as usual. Of course, it is better to use chamomile flowers not in sachets, but I often have such ones at hand. And time for filtering is not necessary to spend.
By the way, if the hair is not very long, you can confine 1 or 2 bags of chamomile. I have a length of a few centimeters below the shoulder blades.
The second way. This is a recipe from my grandmother. She always dries chamomile, nettle, dandelion flowers and other plants, which are then used not only for medicinal purposes, but also for cosmetic procedures.
Take 1 teaspoon of dried chamomile, nettle and burdock. All grind in a mortar and sift. Then mix with shampoo (preferably for children). Apply to hair and massage the scalp for a few minutes. Rinse and rinse with water with lemon juice or chamomile decoction.
After constant use of this shampoo hair becomes more healthy and pleasant to the touch. It also has a beneficial effect on the scalp.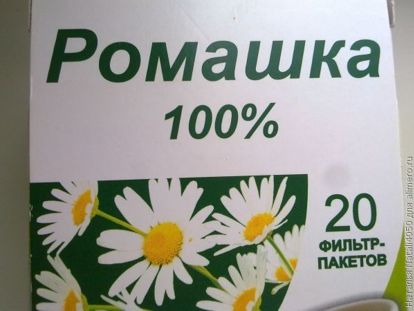 Hair conditioner
To prepare it, you need 2-3 tablespoons of dried chamomile, pour 2 cups boiling water, put on a slow fire and boil for 3 minutes. Then drain into a glass dish, cover and wrap in a towel.
After cooling, dilute with water (need 2.5-3 cups) and rinse hair.
You can also go in a simpler way – pour 3 packets of chamomile with boiling water and cover. Add the resulting product to the rinse water.
To make your hair shine even better, you can add a few drops of lemon juice to an already diluted water.
These are simple tools, and the result with constant use turns out just great.
Do you use chamomile for hair care?