So you want to be beautiful! To see off the admiring gaze … And then you leave the house, elegant, neat. And everything seems fine, but, that dull hair … These split ends. It is urgent to do something, for example, a mask with castor oil.
Yes, this is not a typo. It is the bitter castorca, familiar to many since childhood, that will help our hair look like living silk. Castor oil seed oil has many advantages. For example, several applications of a mask based on it are guaranteed to improve the activity of the sebaceous glands. It will also help get rid of dandruff, strengthen the hair roots, add volume, strength and healthy shine to them.
I'll start with my favorite mask. With kefir. I used it to accelerate hair growth and give it shine. I warmed up half a cup of low-fat kefir on a water bath (quite a bit). In kefir poured a tablespoon of oil and stirred well. I applied the mixture to the roots of the hair and wrapped my head with a film and a towel for half an hour. Washed off with warm water and shampoo.
Another problem is dandruff. To eliminate it, I used a mask with a tincture of calendula. Both ingredients were mixed in the same proportions and rubbed into the scalp. Washed away after 30 minutes.
The combination of castor oil, lemon juice and chicken egg helps with hair loss. I squeezed juice from 1 large lemon into a small container, smashed 1 egg into it and added a teaspoon of castor oil. I rubbed the resulting mixture into the hair roots and left it for 40-50 minutes. Just do not overdo it – repeat this procedure no more than a couple of times a month.
What else? Well, of course, split ends. There is an option in this case. From the summer I stocked up with chamomile flowers, birch leaves, nettle, and St. John's wort. Everything is well dried. By the way, the necessary herbs can be purchased at the pharmacy, their price is not very high.
So, I took all the harvested herbs in the same proportions (approximately 1 glass each), mixed and poured into a 0.5-liter glass jar. Filled herbal tea with half a glass of castorca and corked tightly. For 7 days I put healing medicine in the closet. Then she filtered it and kept it in the bathroom near the shampoos.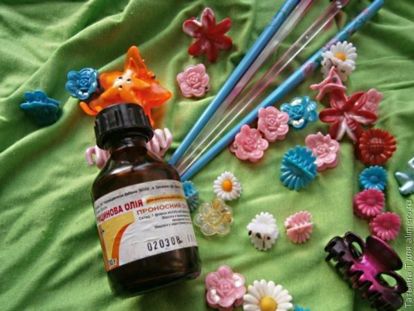 It is good to lubricate this infusion of hair along the entire length, before each shampooing. You can wash off after 10-15 minutes. The course of treatment lasts from 7 to 10 procedures.
Only one drawback from castor-based masks is that it is very difficult to wash it off. I had to do this three or even four times. But the results obtained fully compensated for this minus.
How do you feel about the use of castor oil in cosmetology?