As far as I can remember, from the very young age, I have always been kind to the hair. Still would! After all, even before the school, I had them up to the waist 🙂 And then I rarely cut the blades shorter. And such a length looks good only if the hair is really healthy.
I am not at all against cosmetics, which are now presented in large quantities in stores and salons. On the contrary – if this or that mask, serum, balm are suitable for the type of hair, I'm all for it!
But, in my opinion, we should not forget about homemade hair care methods. Herbs give us ample opportunity. After all, they can be picked fresh in their country house, they can be bought in a dried form at a pharmacy, and they can be used for dandruff, for shine, and against hair loss.
Chamomile is one of my favorite herbs. That is why she is always in my house. The range of its application is wide. It helps with diseases of the liver, gastrointestinal tract, gastric ulcer and duodenal ulcer, menstrual disorders, renal disorders, etc. And, of course, excellent effect on the skin and hair.
For hair, I make broths according to the following recipes:
The easiest way – 1 tablespoon of dried chamomile flowers pour 1 cup of boiling water. It is more convenient for me to do this in a thermos. I leave for 1 hour.
If I want to get a stronger decoction, then cook differently. 4 tablespoons inflorescences pour 200 ml of boiling water and put in a water bath for 30 minutes. And then filter. Broth turns out concentrated, at desire it can be diluted.
Well, and the third option is 2 tablespoons of dried flowers. I pour 1.5-2 glasses of hot water on a slow fire. From the moment of boiling I boil it for 5 minutes, take it off the fire. Broth ready. For its preparation, I use enameled utensils.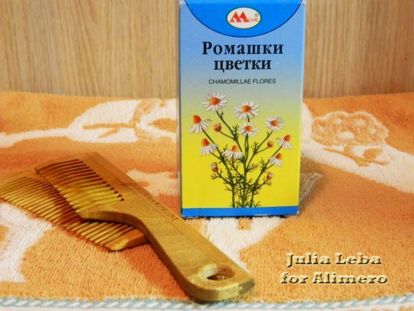 If there are any abrasions, wounds or burns from chemical agents on the scalp, chamomile decoctions contribute to their healing. And also have a bactericidal property.
Fortunately, the problem with dandruff for me recently is not relevant, but when she was, it was daisy that helped to cope with it.
Chamomile decoction is well suited for thinning or splitting hair. And it adds volume to my hair. By the way, it can be used as a natural dye. But this option does not suit girls with dark hair. I myself a brown-haired woman with a redhead, my daisy gives my hair a golden hue.
Nettle decoction
Nettle also gives me the most positive emotions. It is used in the treatment of tuberculosis, vascular and joint diseases, bladder, fever, impotence, hemorrhoids, anemia, kidney diseases, etc. Very popular tinctures and masks for the skin of the face and body on the basis of nettle. Of course, it is useful for hair.
Methods of cooking broth:
Preparing nettle decoction is also possible in several ways and no more difficult than chamomile. I always take the same ratio – 3 tablespoons (or 3 filter packets) of dried nettle for 1 liter of hot water.
And I cook it this way – either I just pour it and insist for 1 hour, or I put it in a water bath and soar for 30 minutes.
If I use this decoction as a conditioner, then dilute it with 1 liter of boiled water. And sometimes in cooked concentration, without diluting, I put it on my hair, wrap it in a hat and a towel, hold it for half an hour, and then wash it off.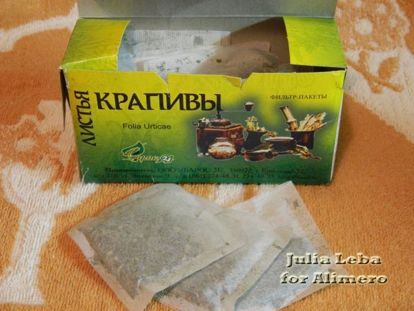 First, nettle strengthens hair. Therefore, if there is a problem with brittleness, urgently make such a decoction 🙂 Secondly, nettle is good for hair that is prone to fat. It normalizes fat metabolism. Like chamomile, such a decoction will help in the fight against dandruff, relieve the scalp from itching and peeling.
After several times of use, I noticed that the structure of the hair became denser, making the hair look thicker. Well, finally, the shine and silkiness of the hair, which is so often referred to in advertising various means, can be obtained using nettles.
And another big plus that I like – after rinsing with broth hair comb hair better! This helps especially when my head is without the use of a cosmetic balm-conditioner.