Since childhood I have not been satisfied with the color of my hair: dull, mouse, expressionless. Mom always encouraged me by calling my hair golden brown with ashen shade. I dreamed of finishing school as soon as possible and becoming a blonde like my mother.
This is what happened. At the age of 17, I first bought a hair-dye of the lightest shade, with the most aggressive oxidant, and set to work. I can not say that the experiment was unsuccessful. I achieved the right color, since then I have received a lot of compliments from males and I was sure that I would be painted in blond to old age.
For several years I didn't betray my image, but once, when I saw fragments of dyed hair on a pillow, I wondered, but how beautiful is it to be a blonde with overdried, brittle, devoid of shiny hair? Having suffered a little, I decided to dye my hair in light brown and grow my own hair.
I admit, at the first attempt I did not succeed – after the blond, any dye of light brown gave my long-suffering hair a resistant greenish color.
I did not retreat. A year and a half has passed since I last dyed my hair. I almost achieved my goal, but I do not like my natural hair color, as before. I was very drawn a little to lighten up. And then my mother told me how she lightened her hair during her student years with honey or kefir.
Honestly, I took the story of mom with disbelief, but decided to try. And, I tell you, I am not at all disappointed in such simple, simple ways. Of course, to achieve an image of a bright blonde, such methods will not allow, but it is very possible to lighten hair half a tone.
Lightening hair with kefir
Kefir for lightening hair can be used in different variations. For the first time I carried out this procedure, having simply inflicted a sufficient amount of kefir on the entire length of the hair, wrapped it with cling film. I put a cloth hat on top and went to bed. Waking up in the morning, I washed off the mask with warm water and shampoo.
After my hair was dry, I really saw a difference in color: my hair became lighter and looked healthier. I carried out a similar procedure several times, adding to the kefir pharmaceutical vitamins or burdock oil. The lightening effect remains the same.
Honey mask for lightening hair
If you want not only to lighten hair, but also to improve it, feel free to try this mask. You will need 1 cup of honey, 4 tbsp. cinnamon and olive oil. Adjust the amount of ingredients based on the length of your hair. Mix all until smooth. If the mass is too thick, dilute it with a small amount of warm water.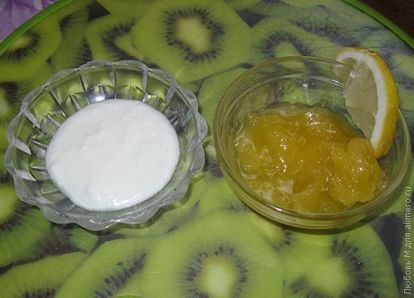 Apply to hair and leave for at least 8 hours (I make this mask for the night). After wash off, as usual. You will be surprised how much lighter your hair will be!
And kefir, and honey are excellent means for lightening hair at home. I want to add that for a more pronounced effect, you can add lemon juice to such masks, but only if your hair does not suffer from dryness.
I also read that using such recipes you can achieve the effect of highlighting. To do this, the mask should be applied to individual strands, wrapping each in foil.
I hope you find these simple tips useful.