One fall, I read a topic about masks of hair clay on Alimero. The effect of them promised different, strengthening including. And I just had a big problem with this – my hair fell so much that it just formed a rug at the end of the day.
I was very curious to try. The method is simple, affordable and fairly cheap. And, apparently, we, women, such natures – just give a real reason to improve our appearance, we immediately want to use it.
In general, I went to the pharmacy and then I saw SUCH – black, white, pink, yellow, green, blue clay. My eyes fled. I began to read the instructions of these earthen colored flowers and realized that, in general, the result does not depend on the shade. By scientific method (well, okay, okay, at random) I chose blue clay.
I decided to make the first mask of blue clay only in a month. Why? It was scary, and suddenly it freezes and will not wash off. I will walk with such awesome hair. Still, 3 hairs of a natural color are better than thick hair with a sticky blue mixture.
In general, I waited for the period of caps (to hide, if anything, the result at least from outsiders) and set to work.
Poured 100 grams of clay into a plastic container, poured half a glass of water and mixed. The result was a homogeneous mass.
I put it on dry hair and scalp and hid this creature under a plastic bag and a towel.
So it was necessary to pass 30-40 minutes.
I admit, I was afraid. After 10 minutes, I went to the bathroom (read – ran headlong!) And began to wash off. With surprise and joy, I noticed that the water flowed blue and my hair eventually became my own, dark brown color!
The experiment was a success! My jubilation, of course, was a little overshadowed by the fact that I did not wait 40 minutes, that is, consider that I threw the money for clay to the wind. But still it was nice that everything ended normally.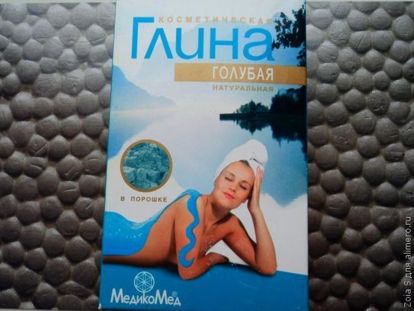 On the way to strong hair
After this successful experiment, I began to regularly make masks with blue clay. Why only blue, since the instructions for all colors are the same? Re-read the previous part of the article – I was afraid that green or pink clay would not want to wash off!
By the way, after 30-40 minutes it is very important to wash off the mask with plenty of water. Somehow I was greedy and as a result, on the towel with which I wiped my hair, there remained blue stains. 🙁
1. After 2 weeks I noticed that the mask made of clay affected the greasy hair. They dried themselves, greasiness began to appear only 2-3 days after washing.
2. A month later, the hair stopped falling heavily. If earlier I spent on the head of hair and in my hand there were about 10 hairs left, then now no more than 1-2.
3. Improved clay and my psychological state. No, do not think, I did not rub anything extra with it. Just nice when the hair in its place, and not on the floor.
By the way, the manufacturer still promises to eliminate dandruff, but I did not feel it on myself, because, fortunately, even though I do not have this trouble.
In general, I would recommend making blue masks for hair. But still, first check, suddenly it is on your hair that she does not want to wash off.
Have you had unsuccessful experiments with hair masks?