Balsam-rinse burdock for all types of hair Bioton I bought by accident. In its composition there is an extract of burdock and this is what prompted me to try this remedy.
Another reason to experiment with an inexpensive hair treatment Bioton was disappointment in more expensive balms. They did not give the desired effect. Therefore, I decided to try a balm with burdock.
Description and composition of Bioton Balm
This cosmetic product is sold in a 500 ml jar. I don't remember exactly the cost of a balm, but it is not more than 15 hryvnia. On a jar, a label is attached with the name and description of the balm. Its consistency resembles thick sour cream. The smell of balsam is more like a pharmacy and it smells rather sharply, probably burdock.
Ingredients: water, cetearyl alcohol, silicone emulsion, ceteareth-20, burdock extract, citric acid, benzyl alcohol, propylene glycol, methyl chloroisothiazolinone, methylisothiazolinone, perfume composition.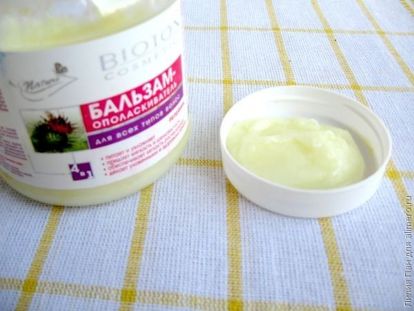 Burdock extract is the basis of this hair product. It gives the balm healing properties. The inscription on the label says that burdock extract strengthens the roots and prevents hair loss. It also has a positive effect on the condition of the scalp. As a result of its use, hair should gain a healthy shine and beautiful appearance.
In other components of the composition, I do not understand. But it is clear that there is less chemistry in it than in many other hair balms. It seemed to me that this balm is similar to natural cosmetics. But these are my assumptions, since I cannot decipher the composition.
The label says in capital letters that this product is 4 to 1. This means that the balm has the following properties:
– moisturizes and nourishes;
– makes hair silky and soft;
– provides a healthy and well-groomed appearance to hair;
– after using it, hair can be easily combed.
My experience with balm
I apply it after shampooing. I apply balm on wet hair and leave it for 3 minutes. Then carefully wash it off with warm water.
Slightly noticeable smell of balm remains on the hair during the day.
Hair after applying this cosmetic really becomes soft and silky, have a healthy look and comb well.
In general, a very good balm. It is not inferior to some of the more expensive similar cosmetics. I am pleased with the effect of using balsam-rinse with burdock.
And what hair balm do you use?