I have always had light blond hair with an ashy tint. In the summer they burned out and from this they were even more beautiful. With age, not satisfied that in winter they darkened and dimmed me, I began to lighten them: at first I made highlights, and then I started painting at all a few shades lighter.
Once at a friend I tried on a dark hair wig, and it seemed to me that it was for me – it outlines the oval of my face. But since I have bright eyebrows and bright eyes, small facial features, in addition, there are freckles, I was not ready for such dramatic changes in my appearance.
Hunting something to change


However, when I went on maternity leave and after 6 months (as it often happens when you sit at home all day, especially in winter), I wanted to drastically change something in myself.
I was also urged to this by the fact that during the period of pregnancy I let go of long hair, which during breastfeeding began to fall out strongly. Yes, and feeding the baby at night, I was worried that they could get to the baby in the mouth.
And then Ostap suffered


As a result, I decided to just shave my hair and make a square bob. And then Ostap suffered. I thought that in the winter you could try experimenting – for example, turn black. My family was against it, but it did not affect me – if something bummed in my head until I burn myself, I will not calm down.
Having come to the department where I usually buy paint, I began to look for black. There was no purely black company that I prefer, but only black and blue. I was so determined and I thought that the shade of blue would be some kind of highlight.
Mom tried to dissuade me to the last, but, as I said, it is not so easy to do. And, oh, the horror that happened to me! My white hair is black with a blue tint. … I became like girls who worship Gothic culture. I repeat: it's good that it was winter and I was on maternity leave.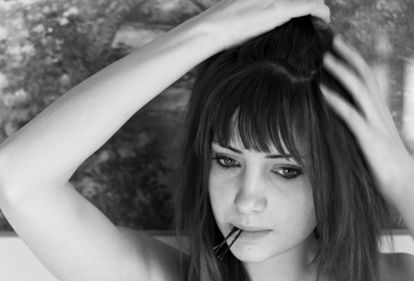 And this is not the worst


Although this is not the worst thing that could have occurred to me. I decided to cut the black hair under the boy! But my hair is naturally thick enough, so it turned out that a short haircut does not sit on my head, as I imagined, but sticks out in all directions!
As I did not try to pick up makeup, clothes, I still could not accept these images. Every morning, waking up, I looked in the mirror and did not recognize myself. Although friends praised me for desperation and said that I was not bad. It was pleasing that the child perceived me in the same way: whatever I was.
Back to square one


Now I let go again long hair, painted in a light shade, as they say, returned to its place. It was a lesson to me for life! However, I have nothing to regret. I did it, I tried it and understood the main thing for myself that after all I am a blonde!