At one time I had problems with hair, they began to fall out. I decided to do their strengthening. Since previously there were not too many purchased hair strengthening products, I began to try different masks.
I read in one magazine that aloe is the most suitable for strengthening hair.
Getting aloe juice
Aloe juice has a lot of useful properties, including helping to strengthen the hair. However, it is worth knowing that Aloe juice must be made according to a specific instruction.. First, you should choose good leaves and, wrapping them in paper, put in a cold place for 10 days. Then you need to select those sheets that are not blackened, and it is from them to get the juice.
Juice is quite easy to get. It is enough to cut the small leaves and squeeze them through gauze. Aloe taakm enough to rub into the head, because it has a great effect on the scalp. Especially useful to mix juice with vodka, but this method is relevant only for those who have oily hair. I tried to rub it a couple of times, but this should be done with a whole course, and I often forgot.
I prefer a mask from aloe. I like best aloe and honey mask. You can also add onion juice and burdock oil. This mask promotes hair growth and strengthens them. Burdock oil I do not always have, and the remaining components in stock. I usually kept such a mask for half an hour, then washed it off with warm water. After her hair became more obedient and split ends disappeared.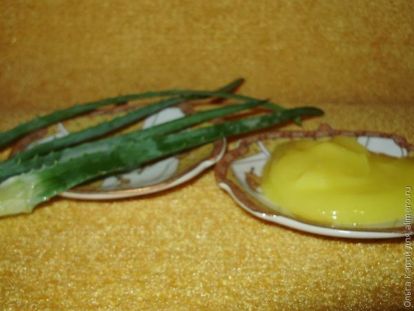 If the hair is dry, it is better to try mask from aloe and kefir, but it is better to add liquid vitamin A and E. Again, you can add burdock oil. This mask will help to restore the hair structure, if you do it at least once a week.
Good is also mask from aloe juice, honey and oil zhozhoba. I often did it after painting hair. It is better to heat this mixture until the ingredients are completely dissolved and to keep on the head all night. I can't sleep with a towel on my head, so I often did it for a couple of hours, but the effect was also noticeable.
If I made a mask of eggs for hair, namely from yolks, then to them I added aloe juice, the hair became smoother and more beautiful. You can combine different options, it all depends directly on the type of hair. Now I prefer ready-made masks, but also with aloe.
Have you tried the aloe mask?