Brand cosmetics Recipes grandmother Agafi I use more than one year and have already devoted several of their topics to her. Today I want to share with the participants Alimero my impressions of the use of hair balm against their loss and fragility.
I bought this balm two months ago, complete with shampoo. A bottle of 350 ml cost me about 95 rubles (24 UAH). Since I didn't meet the cosmetics of this brand in the stores of our city, I regularly made an order for it in one of the online stores of organic cosmetics.
Packing and composition
The balm is packaged in a plastic bottle in a dark green, almost black color. The plastic is quite soft, which makes it easy to squeeze out the right amount of balm. A small disadvantage for me was that the package does not have a dispenser. The neck of the bottle is quite wide, but, due to the density of the contents, too much squeezing out is almost impossible.
The cap of the bottle is twisted, which for me is also not very convenient. Unfortunately, one cannot open it with one hand. On the package there is a traditional image of Grandmother Agafya and a detailed description of the product.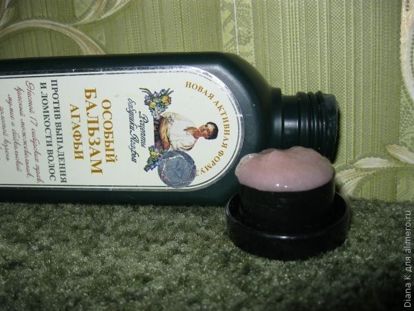 According to the manufacturer, the balm incorporates an infusion of 17 Siberian herbs, red juniper, mummy, vitamin B5 and Baikal golden root on melt water, which, by the way, is listed as part of the first. Neither sodium lauryl sulfate, nor other chemical ingredients in the composition are present. There is also a sticker on the package. reporting that the tool is approved by the Ministry of Health. Manufacturer Ltd. First solution, Moscow.
Advantages and disadvantages
The first thing that distinguishes this remedy from others is its pink color and unusually thick texture. The aroma of the balm is pleasant, sweetish-herbal, but it cannot be called completely natural.
The hair balm is distributed easily, the hair immediately becomes softer to the touch. What is important to me is that hair is very easy to comb after using a balm, because for my bleached hair, combing is a real problem.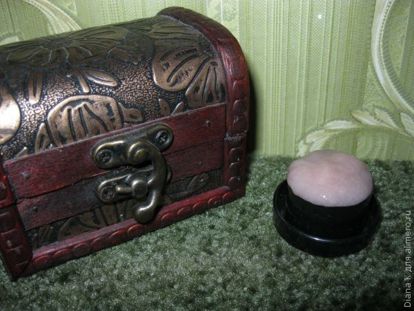 I was very pleased with this balm. Hair after it becomes soft, shiny, fragrant. They really have become less brittle. Not a single drawback in it, except for the absence of the dispenser, I did not notice. Therefore, I can safely recommend Agafya's Special Balsam against hair loss and brittle hair to all Alimero readers!