What prompted me to such a change?
At some point, I wanted not just a change in my external image, but a radical change and … everything noticeable! =) When you just dye your hair or cut your hair, someone will not notice anyway. Perhaps, he will look, digging a little in his memory, but then he will decide what seems to be the case. But African braids, you see, it is difficult not to notice!
In addition, at that time, the length of the hair did not allow to take them completely, and my hair was naughty. The agony with the styling of the hairstyle itself at home with the usual old type hair dryer was already pretty boring to me then. And for African braids of such length was more than enough.
Type of braids and weaving technology
For those who do not know how African braids are woven and how they can be made, I will tell you a little about the process itself.
The length of your own hair does not play a special role, with the exception of very short. African braids weave, if there is at least 4 centimeters of length. Some masters take up weaving with a length of 7 cm.
A longer hair or shorter – does not matter because the braids weave from a special fiber. If the hair is long, then it is simply woven into this fiber, which is attached with a special knot at the hair roots.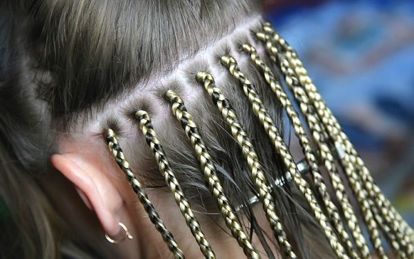 These braids are not made of their hair, otherwise they will simply cease to be African =) In addition, African braids must certainly be very dense.
The length of the braids depends only on the desire! Usually, if you make long braids, then thin ones and vice versa – shorter braids are thicker.
I made the same braids as in the photo: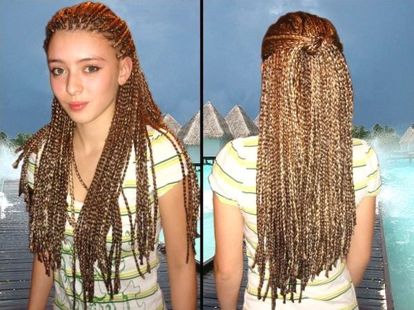 They are thin, but long. Very well suited for a more feminine style of clothes, which I adhere to. But the thick braids – this is a sporty style.
amount
The number of braids depends on the thickness of the hair and the thickness of African braids. On average, this figure ranges from 100 to 350 pieces. You can make 100 thick and heavy braids, and you can make up to 350 thin and rather light.
I made 250 pieces with the same thickness as in the previous photo. By experience I will say – this is enough! =) Communicated with one girl who in a fit decided on 350 pieces. The volume was, of course, more, but this sheer of braids, as she said, was even at the internal level.
Fortunately, everything went without such excesses. For some reason, I immediately decided for myself that the maximum should not be done. After all, the best in everything is the golden mean!
Colour
Color, you can choose absolutely any! Even blue or green, if there is a desire =) There are options for interweaving colored strands that create a contrast with a general shade.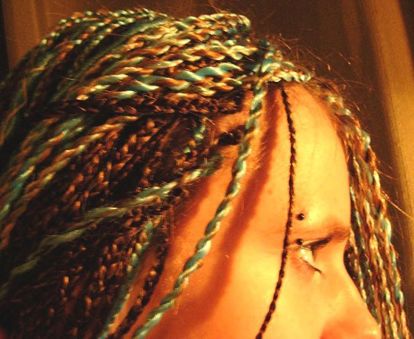 At that time I had my own hair color, and I decided not to change anything in this component. Pigtails are also made for me under my natural color.
Wearing duration
How long you go with pigtails – depends on the speed of growth of your hair and your relationship to the changing look. Most often African braids are from 1 to 6 months.
I removed the pigtails in three months. First of all, by this time my hair has already felt the industry, and secondly, I just got tired. I wanted my usual hair.
Hair care
A huge plus of African braids is that they do not require special care, and a hairstyle is in order at any time of the day without much effort!
How often it is worth washing your hair – different masters advise in different ways. Basically, it is 1 every 1-2 weeks. I washed it once a week and I think that in this case it is more than enough.
In these three months with pigtails, I used the same hair care products – shampoo and conditioner balsam. Shampoo should be applied only to the roots and spread over the entire surface of the head with light massaging movements. Pigtails need to be washed gently, moving in the direction from the roots to the tips.
By the way, at that time I had to part with my favorite masks. During the period of wearing them it is better not to do them, since it will be very difficult to wash them thoroughly if they succeed. Why create extra complexity?
African braids hair
The hairdressers claim that African braids are completely harmless. But here from their former owners, I heard different reviews. I think it depends on the condition of the hair at the time of weaving and on the workmanship.
I went to my proven master, I trust her 100%. Before weaving, I had hair in good condition, rested, grown after dyeing. After removing the braids, I found no harm to the hair. But still for the prevention for a month did egg masks.
Personally, I still feel more comfortable without them. All is natural to me. But I do not regret that I tried. Still, sometimes I really want a variety!
Do you have experience wearing African braids?