Russian streets of large and small cities are full of fashionistas in colorful clothes. And that's what I recently noticed, winter has already passed, and girls and women are not in a hurry to take off their famous UGG boots from their beautiful legs. What is the secret of attractiveness for all generations of Russians of these multi-colored valenok?
First of all, of course, in their ability to retain heat in any winter cold. Thanks to the natural sheep (and sometimes camel) wool, which is inside the boot, the ugg boots retain heat even at a temperature of -35 degrees. And this is an important condition in the harsh Russian climate. Leather and suede shoes in such weather does not behave so well.
It turns out that uggs are irreplaceable not only in winter. In the summer heat, they know how to keep cool inside the boot, thanks to the same natural wool. For example, in Hollywood or California, you can meet girls walking along the beach in bathing suits and uggs barefoot. Amazingly, this is true. Even famous American stars periodically get into the lenses of cameras in this form of clothing. Russian show business, as usual, too, does not lag behind its Western colleagues in the shop.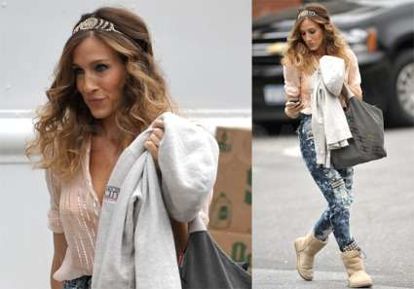 Our divas and divas sometimes even manage to step on the stage in Australian felt boots. What to say about the craze of youth. Personally, I was never attracted to the look of these peculiar boots. But women of the whole world unanimously claim that uggs are a stylish addition to any dress, not only jeans and pants, but even an elegant dress and short sexy skirt. Perhaps this is so, everyone has their own idea of ​​beauty.
What you can not argue about is the convenience and practicality of uggs. If you choose a model with a special coating, on a rubberized sole, then you can definitely not worry that your legs will freeze or get tired. In addition, uggs serve faithfully for several seasons, without losing their heat retaining qualities and appearance. However, we are talking only about natural branded shoes, and not about fakes, so often found on the Russian market. Therefore, if you really want to get all the benefits of ugg boots, beware of fakes and buy only branded items.