Who among us does not dream of a snow-white smile?
Whitening toothpastes, all kinds of procedures at the dentist – we are ready to go to great lengths so that our teeth have the perfect white color.
A few centuries ago, Japanese women thought differently.
The Japanese tradition of painting teeth black was first voiced in the book The Tale of Genji (11th century). And got the name Ohaguro
At first, this practice concerned only girls, especially from wealthy wealthy families. Adult life began at 9 years old, then the first blackening of the teeth took place.

Sometimes this tradition was applied to boys from noble houses, and after ohaghuro it became widespread among common women.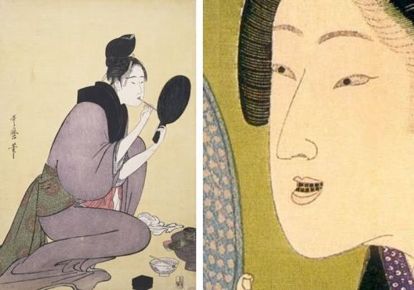 They began to blacken their teeth before entering the house of her husband. It was believed that black color symbolizes stability and immutability, and that the relationship of a married couple should always be such a rite and carried out before marriage. The blackened teeth were a kind of oath in the eternal devotion spouse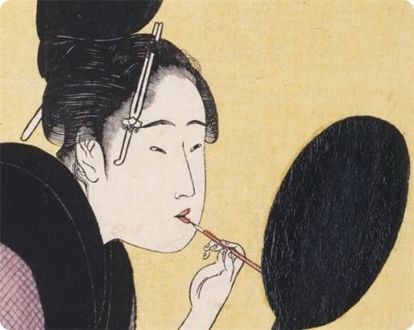 When staining the teeth of a woman, they used decoction; the main components were fetid brown liquid from acetic acid and iron (rusty metal).
First, bee acid was applied to the teeth, containing tannins, and then –
iron decoction.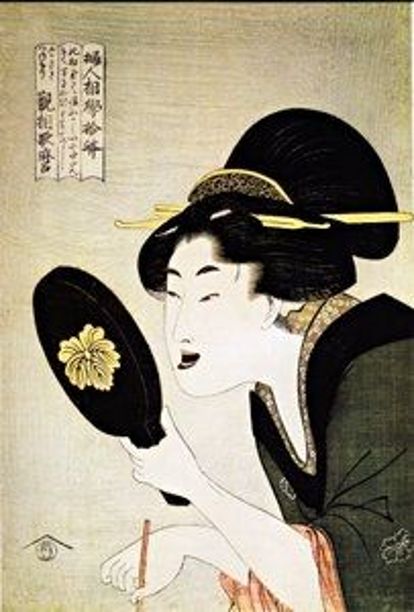 There were several more recipes for the blacking solution, which also contained rice syrup, rice wine, rice mold, sugar, salt, tea leaves.



It should be noted that the blackening of teeth and had a hygienic purpose. The solution prevented tooth decay, cracking and pain in the teeth. With a lack of many vitamins and with a low level of dental care in Japan, this rite was also a necessary measure. Putting on the teeth of a special solution helped to prevent the disintegration of enamel. The dyes were applied once every few days.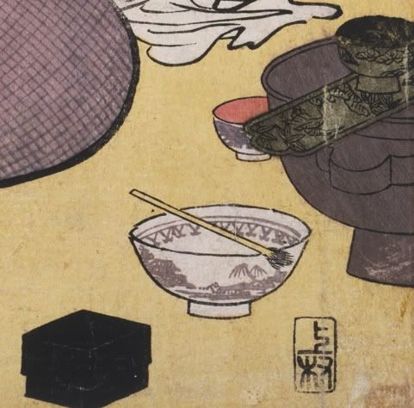 But there is another opinion regarding this tradition: having black teeth was a sign of wealth, since only wealthy ladies could afford sugar. Because of the rich, their teeth were often spoiled. To imitate wealthy families, women who belonged to the lower strata began painting their enamels.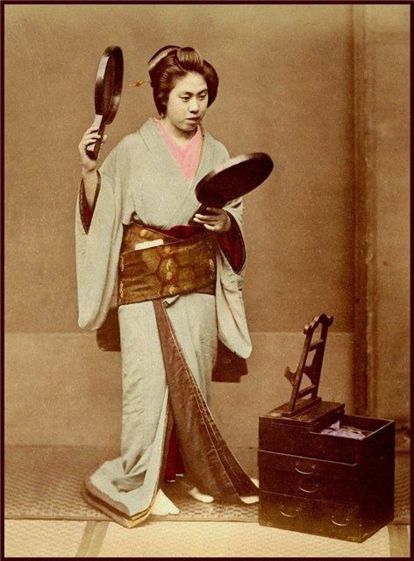 Somewhat later due unpleasant smell and labor, the custom gradually began to go into the past. In the countryside, this rite was performed only during special celebrations, weddings, or funerals.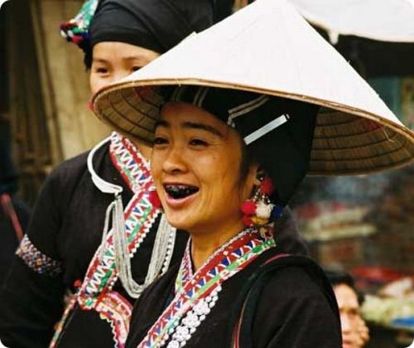 At present, ohaghuro can be found during some traditional holidays, as well as in khanamati – the geisha region. Geishas are known to apply a thick white layer of makeup on their face and body. In comparison with the white make-up, enamel has a yellow tint, and the black color creates the illusion that teeth disappear.