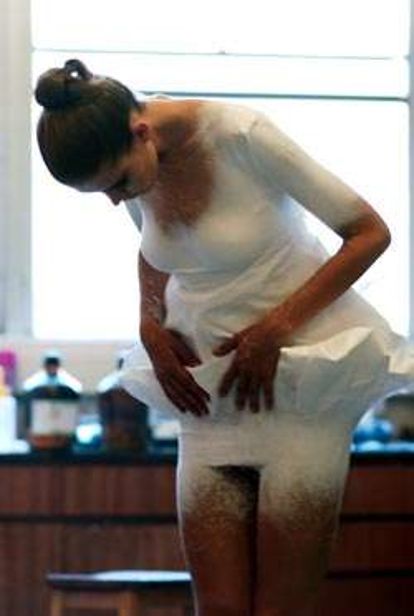 We are constantly amazed by new technologies and here is another one of them – clothes from a can.
It allows you to combine science and fashion. Designers, therefore, can create completely different models. In addition, this innovation allows each woman to have her own personal wardrobe.
Another interesting point – the clothes from the can have a smell and its aroma can be created with the help of chemical reagents. Take a look at the official website of this invention http://www.fabricanltd.com/index.php and you will be surprised how versatile technological possibilities are.
A liquid mixture of spray can is applied to the body and after drying a layer of fabric is formed, consisting of, as it were, short fibers interconnected. You can reproduce any type of fabric, for example, wool or silk, it all depends on the composition of the consistency in the aerosol. Spray-on Fabric can be used not only in the fashion industry, but also in medicine, as the creation of bandages applied to a wound.
The goal of the company developing this product is to create a universal tool that can be used in various industries. In addition, his formula should be so innovative that a person doesn't have to do anything else, as it is simple to spray liquid from a sprayer.