If you conduct a survey among women, most of them will surely say that they prefer to wear trousers instead of skirts today.
There are many stories about trousers. So one of them is that for the first time they appeared in the East and so familiar to us bloomers are their prototype. Another – nomads invented trousers to make it easier to ride a horse. Scientists refute these assumptions and cite evidence of archaeological excavations as evidence, during which ancient human remains were found in fur trousers. Later it turned out that he lived about 20 thousand years ago, which means that there can be no question of riding a horse.
In the period of the Middle Ages it was considered special chic to wear men stockings, and even different colors. But women at that time could not wear anything like that, otherwise they were burned at the stake. If you think about it, indeed, indeed, Joan of Arc was almost always in pants.
In the 19th century, fashion for pants appeared thanks to the feminist Amelia Blumer. She just began to wear this type of clothing with a skirt, but significantly shortened. And then all over the world sport became popular and somehow it was necessary to put a woman in her pants so that she could freely ride a bicycle, ski, etc., and this was used by the weak half of humanity.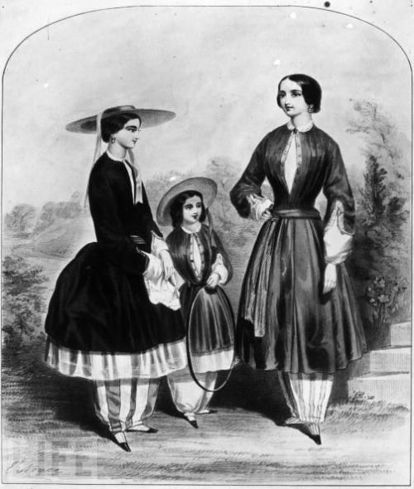 In the 30s such stars as Marlene Dietrich and Katherine Hepburn could be seen in the movies in men's suits and they began to imitate many. In the 50s, jeans appeared and pants were already in the wardrobe of every woman.