In the past, I already said about the analyzes that my son and I recently had to undergo an examination. Today I want to focus on urine analysis. He also needs attention.
In the first year, we passed a urine test at 3 and 12 months, when there were scheduled examinations of all doctors. Now we give before each vaccination to confirm that the son is healthy. It is also desirable to be tested after viral infections or diseases of the genitourinary system.
How to collect urine?
1) If you need to pass a general urine test, then be sure to collect the morning urine. During the night it accumulates in the bladder and it is easier to identify violations in the studied parameters.
2) Before collecting urine it is necessary to rinse the child.
3) You need to collect urine in clean sterilized dishes. It can be as special jars or urinals, bought in a pharmacy, and ordinary household containers, but they need to be well washed and rinsed with boiling water.
4) After the urine is collected, it must be delivered to the laboratory no later than in three hours. Before that, this liquid should be in a cool and dark place.
Let me help you figure out what the rules are.
1) When you get the result of the analysis, the first thing written on the form is the color of the urine. It should be from straw yellow to yellow. Some drugs and foodstuffs (the same beets) can still affect it.
2) Urine in the morning should be transparent, slight turbidity is allowed. If it is very turbid, this may mean that it has salts, mucus or bacteria.
3) The relative density of urine should be between 1,007-1,018. This figure depends on how much liquid you drank in the evening and how much food was eaten.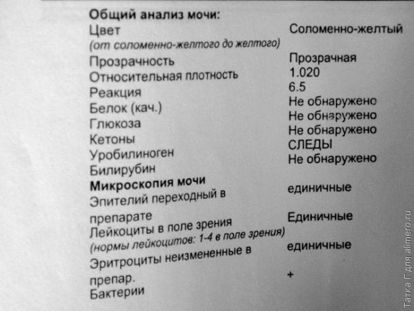 4) The reaction can be neutral, slightly alkaline and weakly acidic. It also depends on the nature of the child's diet. If the reaction is alkaline, then this indicates an inflammatory process in the child's body. And if the reaction is acidic, that is, metabolic disorders in the body or the child consumes a lot of meat products.
5) Protein in the urine should not be at all. If it is present as a result of the analysis, it means that there is an inflammatory process in the body. After that, you definitely need to go to a nephrologist consultation and conduct an additional examination.
6) Glucose should not be in the urine or there may be a small amount (not more than 0.2%).
7) Epithelium can be single inclusions. If there are a lot of them, then this indicates the presence of an inflammatory process in the urinary system of the child.
8) Leukocytes in the analysis should also be present in single quantities (1-4 in the field of view). If there are a lot of them, then this also indicates an infectious-inflammatory process in the urinary system.
9) Erythrocytes are missing or isolated inclusions. If there are a lot of them, then there are violations of the exchange or inflammatory nature.
10) Slime – a small amount or it should not be at all. If there is a lot of it, then there is an inflammatory process or a lot of salt.
11) Salt should not be or in small quantities.
12) Bacteria should not be or in small quantities. If there are many, the urinary tract may be infected.
If you notice any deviations from the norm in the results of the analysis, then do not over tighten and consult a specialist (nephrologist) for advice. He will prescribe additional tests (samples from Nechiporenko or Zimnitsky) or urine cultures for flora.