Probably all kids love water. They run through the puddles, squish in them. Most kids often pour water (and not just water, by the way) out of the mugs, in order to spread it on the floor or on the table. The kids often like to bathe in the bath, so they have a lot of bathing toys, with the participation of which the whole performances are played. My son loved the bath too. The key word here – loved …
It's hard for me to say what happened, but suddenly he began to cry before bathing. Water treatments have become a nightmare. It was necessary to do something with it.
Prehistory
From birth, I bathed a child very often: no less than every other day. At first she washed her baby in a small baby bath with a slide. Of course, when I was very small, I added herbal infusions to the water: a string or a chamomile.
When he grew up and began to sit, transplanted him into her bath. Water poured a little – less than to the middle of the tummy, always held it in order not to fall. Temperature checked by hand and thermometer.
Once I saw a lap in the store for swimming, I bought it. Son liked to swim, but for some reason only on the back. In fact, he didn't swim himself, I just rolled him in the bath.
When he sat fully and confidently, he refused to circle, but added toys with which he had fun while bathing.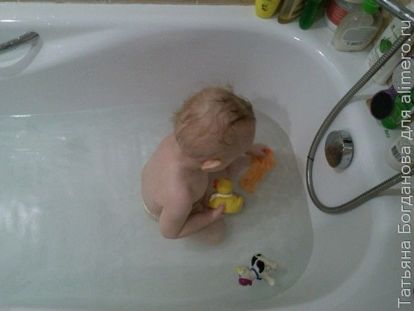 Then one day, as usual, the child's section was brought to the bathroom, and he began to sob. Moreover, he cried so bitterly that his heart sank.
Revealing fears

It was obvious that the child was afraid, because he clutched at me with his hands and did not want a bath. And he cried, cried … I did a very big stupidity then, because I was redeeming him all the same. Quickly, literally in five minutes, with a scream, but atoned for. But you had to first understand what exactly the child was afraid of.
The next time I started from this. Found that the child is afraid when the tap is on. I do not know why he was afraid of this. The crane turned off, the son calmed down a bit. Later, I first drew water, turned off the faucet, and then bathed the baby.
I also realized that he was starting to panic when the shower turned on. Consequently, it also no longer included.
The biggest fear for some reason was immersion in a bath. Let me remind you that there was little water in it, the water temperature was always excellent.
Fight fears

So, from two sources of fear of the child before bathing, I got rid of. I didn't turn on the shower any more, I took water before bathing. In order to rinse the child after bathing, I bought a large, bright, soft washcloth, with which I gently poured it at the end of bathing.
By the way, she also helped with washing her hair. To wash off the shampoo, gently wash water over the back of the head with a sponge. Washing away the foam in front of me, I distracted my son so that he looked up and threw back his head and watered his head with the same washcloth. It was important that the water does not flow on the face, because he was afraid of this, trying to get out of the bath.
But in order to bathe the baby, he had to first be put in the bath. This has become a major issue. I could not tear him away when he clutched his hands and began to whimper. Therefore, I decided to be in the bath with him.
Clutching at me, the son was sitting in the water, which I poured more than usual, because there were two of us. At first, he whimpered, and I poured him gently with water: pens, legs, and back. Five minutes later he calmed down, I offered him toys. Five minutes later she planted him gently in the bath, tearing him away from her.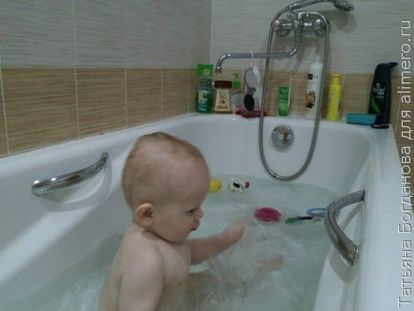 At first he fumbled with toys, then began to squish. A few minutes later the spray flew in all directions. At this time, I gently washed it. When it broke out, I poured some water, and I got out of it myself, wrapped myself in a towel and sat on a chair near the bath, which I had prudently set there before bathing.
At first, the son was wary when I left him alone, but then I realized that I was near and calmed down. When he got tired of messing in the water, he got up and held out his hands to me. I wrapped it in a towel.
The next time the situation was repeated in the same way. Only he did not cry and did not even whimper, because I did not try to put him in the water of one, but immediately took her in my arms and climbed into the bath with him in my arms. I got out of the bath faster.
Probably the fifth time I planted him alone in the water, but at the same time I was very close – I was kneeling near the bath to be on the same level with him.
Now bathing has ceased to be a punishment. The main fear, as it turned out, was that I could leave him alone in the bath. We overcame him and now we swim with pleasure.
Did your child have similar fears? How did you overcome them?