Usually this issue is given a lot of attention. Indeed, a person lives in society, which means that he needs to be able to communicate with him. And for that, you need to communicate with your own kind since childhood.
Friendship, enmity, rivalry – all this is necessary for every child. Because of this, he will know how to behave in adult life. However, there is a very interesting nuance. Let me explain with the example of my daughter.
In the summer, when she was only one year old, she actively got involved in all children's affairs. A new baby came to the site, you need to run and look at him. Someone got a toy, she immediately tried to take it away. In general, there was a desire to interact in it.
Cardinal change
In winter, we fell out of this active life. All the kids have gone home. Those who are older, went to the garden. Children's society froze in anticipation of the heat.
And finally, the long-awaited spring has arrived. The sun is shining outside, the thermometer shows +15. And the kids poured out into the street.
But! As it turned out, my daughter is so wild for this time! She absolutely does not reach for the kids. Kids run to her, and she from them. Just the other day there was a situation. A girl a little older than my daughter tried to take her by the hand. Where there! The baby began to run away from her and at the same time almost cried.
This case finally alerted me. How so? Really, during the winter, she became so disaccustomed to the children that now they absolutely do not interest her. What will be next? In kindergarten, at school, and in general in life?
I began to blame myself. It was necessary to foresee this situation and to go in winter to visit little children. And then we only visited their friends or relatives.
With these thoughts, I called my mom. She brought me to an interesting thought. Children are different, however, as adults. Someone loves society, or they are also called extroverts, while others do not, then they are considered to be introverts.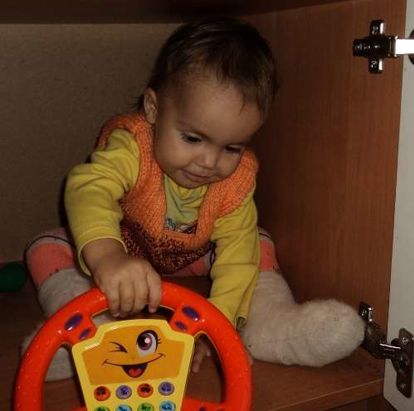 In general, there can be a lot of explanations, I will try to sort them out.
Explanations
So, the child does not want to communicate with the children, because:
1. He is an introvert. And in essence does not need a large number of people. He has a great time with himself. Or he makes himself 1-2 true friends with whom he feels easy.
2. Protects your territory comfort. As you know, every person feels comfortable with strangers at some distance. Usually it is 1-1.5 m. Closer are allowed only close people: relatives, loved ones, friends.
3. Early matured. If a child spends a lot of time with his parents or other adults who do not deal with toys with war toys, but as a serious business, for example, they cook and clean together, then the kid will simply be bored with his peers.
And what do you think? Did your kids have a similar problem?