The older the child, the more discriminating he becomes in food. At least with us. Until the year was – that no, let me eat everything. Now there are so many different problems: either he does not like the consistency, then a bone will say about the dill and spit it out, then, in general, he wants to eat sausage instead of dinner.
In general, of course, it is worth clarifying what I mean by adult food. It is clear that if the older members of the family eat diet products, then in 2 years the child can safely eat from them from the same plate. Boiled vegetables, nothing fried, salty, spicy, no soda and mayonnaise, no chips and crackers.
Our diet has changed a lot with the appearance of a child in the house. I rarely fry, cook soups without overcooking, use little salt, almost never buy sausage. But still, sometimes we eat it, besides we are visiting, where not everyone is concerned about healthy eating.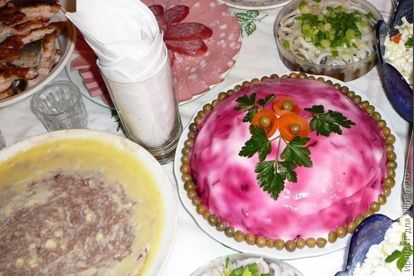 So, the son almost always wants some hazards. It was interesting to work with sausage: I saw it for the first time, and I began to ask, as if I had dreamed of this delicacy from birth. Just some kind of mystery.
When I bake cakes, such as charlotte, I always suggest to my son. Or visiting a grandmother trying to feed him a delicious cheesecake. Does not want. And once she baked a pie with mushrooms, her son sprang up all over the table: give an urgent pie! I had to give only the dough (well, how can I give him mushrooms?).
Last summer he liked okroshka. I will make for it separately without mayonnaise and instead of sausage I will put boiled meat – it does not eat. And from the common pot asks.
Of course, the son is no longer small. Many mothers do not even bother at this age about food. Someone is already eating smoked sausage, someone already eats potato mash with canned meat for about a year, and someone doesn't come out without a lollipop. But I decided not to rush. Therefore, as I said, harmful products in our house are not frequent guests. Sweets are also not in a hurry to give. But if I strongly ask, I try not to irritate the child.
Just now I take the sausage, if I take, then boiled, better and lean (in case you don't have time to hide :)).
Sweets


There is almost no candy at home. Lollipops son once bought himself a self-service store (not to pull it out of his hands?). True, fortunately he did not like them. While no longer asking.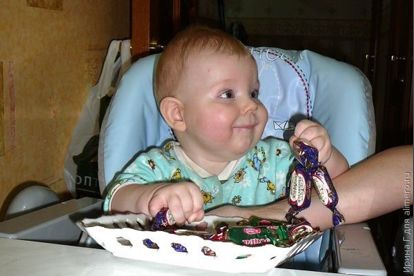 If I have fried cutlets, and my son doesn't have time to steam, I cut off the crust and give it to him. That such a deal has to go.
Also with fried potatoes – I choose without a crust. True, this is very rare. We do not often fry potatoes, and try to make cutlets for all steamed ones. But if I fry, my husband has a holiday 🙂
Son loves pickles. It is impossible to fight this. I give, but I try to agree with him about the quantity.
When we go to visit the grandmothers, I ask them to prepare something for the child in advance or take food with me. The first thing I feed him with this dish. And he won't eat a lot of sausage on a full stomach 🙂
Girls, and how are you? Children ask for sausage and sweets? And how do you react to this?