A question that has been raised more than once and not only by me. But he has acquired new shades from us, so I want to once again talk about sore. And also ask the opinion of experienced moms – to force a child to eat or not worth it?
New nuances nehotelok
Previously, my daughter was hardly the only reason for something to eat or not was the appearance of dishes. Remember, as in that cartoon: It's something green and not in the shape of a dinosaur … Broccoli. And now she has the crown royal phrase: I do not eat it. Used with or without, for almost everything.
And the arguments that last year you the same canned tomatoes with your grandfather's dacha was consumed for two cheeks, do not go. Meat was always eaten with pleasure, and now, it turns out, they do not eat …
It is clear that this phrase, brought from the garden. But if you take the word for your daughter, then the child eats only buckwheat, semolina and oatmeal, and also buckwheat soup. Oh yes, for a sweet invitation is not required. Here we eat almost everything, especially what looks beautiful.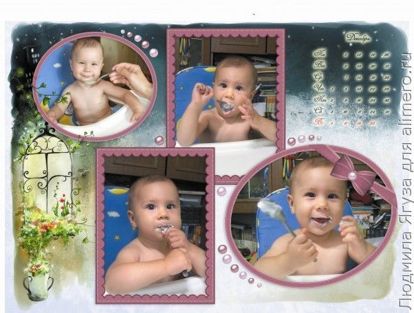 What is the matter?
Remembering herself, I agree that the appearance of food did play a role. Some defects in vegetables, specks on a piece of meat, breasts in mashed potatoes could completely discourage appetite.
And my grandmother always put me in a plate of food, as they say, from the heart. Even now she eats as much as I do in a day. But as a child, I remember that the kind of plate with a hill brought melancholy – I obviously had a lot of this. Therefore, from the first spoon the appetite disappeared, because soon they will start forcing to eat.
My behavior is now corrected in accordance with these memories. I always give my daughter really a little – two times less than myself. And I myself do not overeat. But meat, fish, eggs have to be crushed and mixed with porridge so that the child can eat them and get a little protein.
A soup, borscht always comes with a fight. I will drink Yushechka, and I don't eat cabbage, beans, carrots, beets! She recently took her to the gym with her, and there she started talking about food with the trainer. I complained that my daughter does not eat anything except for cereals, and she also needs meat, eggs, and fish for normal growth. Especially since it is growing fast.
The coach agreed to speculate on the usefulness of these products. When we came home, porridge with fish was eaten in one second, I did not even have time to blink! That is, when someone from the side expresses his opinion, it is much more important than mother's. And it's not at all in the notorious I do not eat.
So think now, to force the child to eat or not?