I have two girly-laughing girls. The houses are always noisy and fun: the elder one dances and sings songs, while the youngest one moves on the floor in a crawl, telling something in a language that nobody can understand.
Still, life seemed too boring to us. A few months ago, we suddenly had a new resident – a mustache purr. Do not believe it, but he himself chose us.
In the middle of the night, he climbed a tree in front of our balcony and shouted loudly, peering out the window. Woke everyone up. I had to remove it from the tree – he was afraid to get down. After an hour of effort, the kitten was successfully withdrawn. Well, how could we leave it on the street! I had to shelter this flashy, scared creature.
Over time, there was no trace of fright. Casper (as we called the kitten) got comfortable and even felt like the master of the house. He slept without a twinge of conscience, having spread his paws, in the middle of the sofa and unceremoniously washed himself while sitting on the kitchen table.
When I saw Casper, peacefully sniffling in the crib, she was outraged to the limit. Reassured, I convinced myself that nothing terrible had happened. Whatever one may say, there is wool on the sofa and on the floor too, and one cannot get away from it.
And yet I try to close the door to the bedroom so that Casper does not manage it. We were lucky: Casper turned out to be a cultured guy and fulfills his need in a specially designated place. Still, I prefer to wash his paws at least once a day to get rid of the unpleasant smell.
The eldest daughter is very fond of a new family member. She plays with him, strokes him. She is already an adult to offend an animal and drag it by the tail. But sometimes she is forgotten and treats him like a toy. For example, she recently built an impressive-sized cottage on wheels from a designer, put a cat and a catal inside the room, until the adults saw it.
We, in turn, explain and remind you that the cat is a living creature and you should not treat it as a toy. Otherwise, he will be hurt and offended. And since he does not know how to talk, he will leave such a hostess.
Since it was the eldest daughter who asked to leave the kitten, part of the responsibility for caring for him lay on her fragile shoulders. Namely – feed and comb Casper. She does it with pleasure, never forgets to feed her pet, and even sometimes reminds me to buy him food. I believe that such simple duties well develop in children a sense of responsibility and hard work.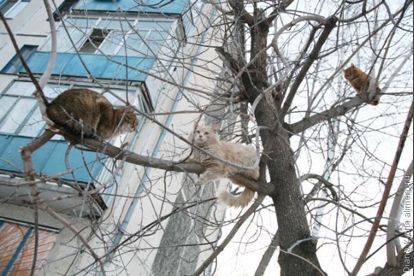 Casper does not touch his younger daughter, but she is already interested in crawling to a living toy and twisting his ears or tasting his paw. Therefore, I do not leave them unattended in the room.
Often I hear that parents of newborn children give up their pets to relatives or simply throw them out onto the street. How can you? After all, these are also family members, albeit small ones. I can justify this act only if the animal shows aggression.
I have never regretted that we sheltered a baby who grows up before our eyes and pleases us with its purring.
Do you have a pet? How do your children get along with him?