Do I need a mobile phone for a child? This question began to bother me when my daughter was 5 years old. On her 6th birthday she asked us to give her a mobile. We began to wonder why she had a phone, who she would call, and ask her other questions in order to understand if a child really needed a phone at that age.
Of course, the first argument of the daughter in favor of acquiring the phone was the presence in it of games that so beckon all children. Then my daughter said that many children carry mobile phones in the kindergarten. This fact, I confess, surprised me. I could not even imagine that children in the incomplete 6 years old are carrying mobile phones in kindergarten. At the first opportunity I asked the tutor about this. It turned out that the daughter told the truth, some children take a mobile phone with them to the kindergarten and talk to their parents during the day.
The teacher expressed a negative opinion about the phone in children of this age. And I understand it, because getting a child to keep a favorite toy in a locker was stripped almost unreal, children are literally dependent on the phone.
After talking with the teacher, I was convinced that the mobile phone for a child of preschool age was useless. After consulting with my husband, we decided that we would give our daughter a phone for a 7th birthday.
And this day has come. My daughter was 7 years old, we gave her such a welcome box with a phone. Well, what to say … my daughter was disappointed. After all, she thought she would get a fancy touchscreen phone with games, but received a simple little phone and one built-in game. However, the daughter did not suffer for a long time. We explained that she could play games on a laptop, and she needed a phone in order to be able to call parents at recess.
It turned out that at the age of 7, the phone is not so necessary for a child who is picked up by parents from school. For the first week, my daughter went to school with a telephone and asked me to call her at recess. She never got through to me, because at recess her daughter was leaving the classroom, and the phone was forgotten in her backpack. Then my daughter said she would leave the phone at home. So he lay for six months in the closet.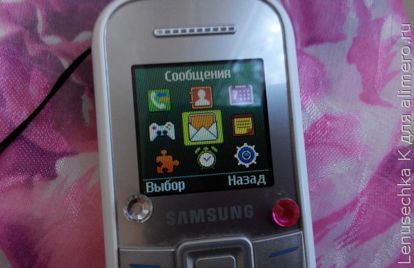 When the daughter went to the second class, she needed a mobile phone, as the daughter became more independent. We are going to school by minibus, but I am taking my youngest daughter to kindergarten, and the eldest one comes out of the bus herself. She has 5 minutes to go to school, but she needs to cross the road. Every time I call a couple of minutes before the start of the lesson in order to find out if my daughter got to the school normally.
I also started to leave my daughter alone at home. An hour or two is a short amount of time, and yet, I worry if everything is all right with her, so I always call and ask.
And recently my daughter came home from school and said that she urgently needed an iPhone, because her classmate's parents bought one 🙂 When I asked what iPhone was better than her phone, I was pleased with the answer: flowers from my classmate on iPhone. Girls – they are such girls 🙂
Dear readers, tell us, at what age did you buy (or plan to buy) a mobile phone for your child?