My child went to the pot somewhere in 2.5 years. As late, many will say, but I disagree with that. The son consciously understood what he was doing, what he wanted to go to the toilet, and therefore he had to go and do his own business.
When I see mummies who are engaged in planting crumbs, it seems to me that this is just a mockery and elementary savings on pampers, by the way, this is often the reason for such an early desire to accustom the child to the pot.
Here I agree with Komarovsky, you can be proud that your child does not go to the diaper in half a year and sits on the pea. Have you ever thought, he does it consciously or thanks to yours, but not his reflexes?

Everything has its time
Frankly, I didn't even try to plant my son, and we walked in diapers for a long time, but I didn't know the headache that the baby accidentally crumbled or obkakalos, sorry for the revelations.
It is at 3 years or closer to this age, children can control their processes and independently understand when they want to go to the toilet. It all started with the fact that we ran into the bath in a small way, it was summer, and he often bathed, doing his business at the same time.
We had a pot a long time ago, but he perceived it as a toy, but not as a toilet. And then at one point he sat on it on his own and went to the toilet; since then, we have abandoned diapers altogether.

Psychological aspect
I, as a psychologist, believe that you need to teach a child to a pot only when he himself is ready to do this consciously. I do not argue that girls in this, and in many matters, are more developed, but this is psychology and boys lag behind the development of girls. Therefore, you can not argue with nature.
Explain to your child that you need to go to the toilet in the toilet. Make characteristic sounds when the child goes to the toilet so that he has associations. Then it will be easier for him to tell Mom, wee-wee, than to explain what he wants.
In no case do not punish him if he could not restrain himself or run down, so you can develop complexes in him and this will not end very well. It is also very important to abandon diapers completely at the moment when the child began to go to the pot.
Do not wear it, even if you are visiting or walking. This will be a big mistake, because the child will not be able to understand, you still need to endure, or you can ease into the diaper.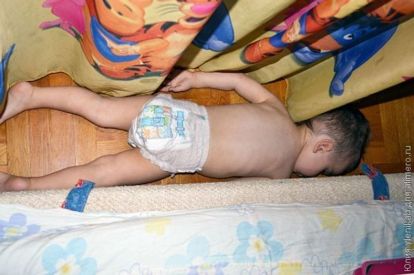 And what do readers of Alimero think about this issue? When and how did you accustom your crumb to the pot?
By the way, I recommend to buy not heaped pots with special effects, but the most common ones, so that the child does not perceive him as a toy.