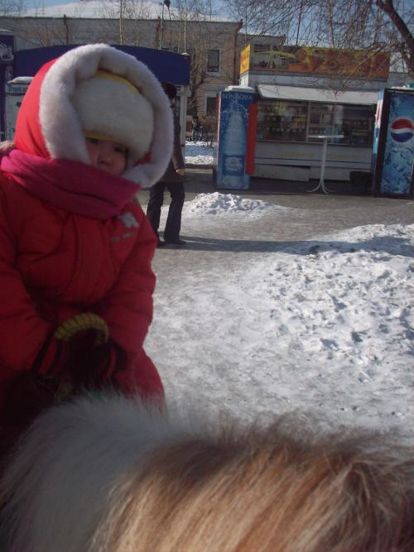 At first, my husband and I took turns supporting her. Then I noticed a small device on the front bow of the saddle so that the children could hold themselves. I showed my daughter how to hold on. She herself, without prompting, leaned slightly forward, tightly wrapped her legs around her pony and arched her back a little.
It seemed that all her short life she had only been riding and practiced. At the same time, she managed to pose for the camera, tried to stroke the pony on the withers and released her comments about the dogs running nearby.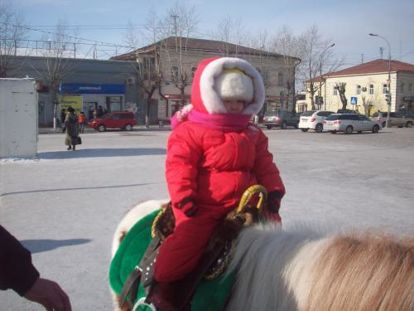 We had to go further, but the daughter did not give in to persuasion to get off the pony, despite the cold and fatigue. In the end, the husband took her in his arms, and the daughter roared and rushed to the horse. In this way, they only teased their child, and now we think that in the near future we will have to shell out for classes at the equestrian school or to acquire our own four-legged, artiodacty friend.
Having made such conclusions, I scored the words child and horse in a search engine and learned about hippotherapy – treatment with a horse. Glory and endless gratitude to God that my child is healthy. Nevertheless, I think the information about this unconventional method of treatment deserves attention. It turned out that hippotherapy is addressed in many diseases.

Two positive sides of the same coin

Hippotherapy has two factors of influence: physical and psychological.
Therapeutic riding strengthens the main muscle groups of the child and teaches him to maintain correct posture. Sitting astride, the child tries to keep his balance and coordinates his movements with the movements of the horse.
For children with impaired motor functions individually develop a set of exercises. The result is usually not long in coming. Both parents and children are satisfied. But! Hippotherapy can not deal with hemophilia, kidney disease and bone fragility.
Hippotherapy is also effective for autism, cerebral palsy, mental retardation and depression. The child feels himself not as a small, sick little man, but as a strong and agile rider who controls such a large and intelligent animal as a horse. He has a loyal and kind friend who needs to be taken care of. The huge charge of positive emotions from communicating with a horse often helps much more than a course of treatment in hospitals.
I described here the effect of hippotherapy in general terms. If you are interested, then on the Runet's expanses you can find a lot of useful information about this enjoyable treatment for children and adults.