– And my son is already eating borscht. – boasted in the queue at the clinic mother of 5-month-old toddler.
I was dumbfounded – how can you be so irresponsible about the health of the child, and even brag about it ?!
I began to introduce my first feed to my children only after half a year and paid the most attention to cooking porridges.
When I started cooking porridge
When my daughter was half a year old, I decided that it was already possible to diversify her diet with cereals (before that we had tried vegetable puree). In the same way, I acted 10 years later, when I introduced a complementary food to my little boy.
At first, my attention was attracted by bright boxes with instant cereals, which were lined with shelves of pharmacies and supermarkets. Their choice was wide enough, but I was confused by the volume of these mixtures. In the smallest package – 250-300 grams of such porridge, and it must be used within 14 days.
I was going to give my daughter porridge from different cereals, alternating them every other day. It turned out that almost half of the mixture would have to be sent to the trash.
A little thought, I stocked up cereals and began to cook. I chose my choice on such cereals:
First we tried porridge cereal (started with 1 teaspoon). It seemed to me the most optimal, both in taste and in terms of its beneficial properties. Day after 3, I offered the baby a little buckwheat, well, and then began to alternate between different types of cereals.
Oatmeal and Corn Porridge
For children's cereal, I chose instant oatmeal flakes. I poured a tablespoon of oatmeal with warm water and left it for 2 hours. During this time, the flakes had time to soak in water and swell.
In a separate bowl, I boiled some milk, poured some flakes and put it on the fire. On the smallest fire, cooked porridge for 7 minutes, and then another 5 minutes insisted under the lid.
Likewise, I cooked corn porridge, but at first I picked it up and washed it well. Well, it had to cook longer, about 15-20 minutes.
Before cooking, I carefully picked up the cereal and washed it well. Then she poured hot water in a ratio of 1: 2, tightly covered the lid and set it on a strong fire. After the porridge began to boil, I screwed the fire to a minimum and tormented buckwheat for 7-10 minutes (so that all the water was absorbed).
Then I poured the porridge with hot milk and left it to infuse for another 5 minutes. I kneaded the finished porridge to a smooth mass, so it is easier digested by a tiny organism.
For rice porridge I chose round grain, washed it 2-3 times and poured into boiling water. After boiling for 6-7 minutes, I drained the excess water and added hot milk. She cooked porridge on low heat for 15 minutes, and then kept it under the lid for another 15 minutes, wrapping a saucepan with a warm towel.
Now, many doctors recommend not giving babies porridge, or limit its consumption. But I myself grew up on this wonderful porridge and my children liked it.
At least once a week, I cooked semolina with milk. I was looking for the right recipe for a long time and, it seems, found the most optimal one.
Following him, I mixed 0.5 cups of milk and water, brought to a boil and quietly poured 1 tbsp. l sifted semolina. Constantly stirring, boil porridge on a small fire for 15-20 minutes.
Then she added another 0.5 cups of hot milk and a little sugar, brought to a boil and removed from the heat. I usually added 10-15 grams of butter to the finished semolina.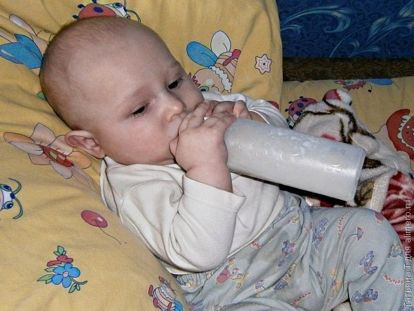 I hope you find my experience useful. How do you make porridge for your little ones?