When I found out that I was pregnant, I was in a state of shock. I can not say that I was against. No, I was just immediately overwhelmed with fear and insecurity, even though I had a husband, had a place to live, I already received a higher education and even managed to build a good start for a career.
My alarms

I was tormented by thousands of questions, now I will tell you about the most weighty of them.
1. Is it early? When I saw two strips on the test, I was 23 years old. In general, I hypothetically admitted the appearance of a child, we even didn't particularly protect ourselves, having decided that if the pregnancy came, it was good, but deep down there was a certainty that I wouldn't definitely give birth to 30.
Here my husband helped me a lot, convincing me that it was the other way round. His main argument: we will be beautiful, energetic and young parents. We will have more understanding with the child. And, in spite of my young age, I already had a good higher education, my career was in full swing.
2. Can we afford it materially? At that moment, both my husband and I worked, and we had about the same salary. We lived well, practically did not deny ourselves anything and did not think about tomorrow at all. And then on the horizon loomed the prospect of a decree with a small allowance …
I admit, I was scared. But here again, thanks to my husband. Realizing that you need to change something, he found a new job.
3. Will I be a good mom? Probably every pregnant girl thinks about it. I often thought about it, read books on parenting, talked to my mother, who raised four of us.
4. I do not know how to handle a child! When I first decided to swaddle a teddy bear, I did not succeed! I did not know how to feed the baby, how to hold it, how to calm it down. I was scared to take my daughter in my arms for the first time.
Then my mom calmed me, who convinced that it was not difficult, said she would help us whenever possible, especially during the first time after the birth of the daughter. Now, she is my number one counselor in the right upbringing and care.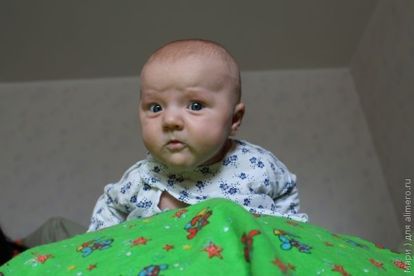 Not so scary)
All comes with experience. Now my daughter is a year and three months old, and I can say that everything is not so scary. In fact, it is even good that she was born now while we are young and full of energy. I can easily tolerate nighttime non-raining, with great pleasure I walk with my daughter for days on end and quickly came into shape after giving birth.
And you were tormented by fears and anxieties? How did you handle it?