My darling crumbs are now four years old. From my husband, I literally ran away with a child in my arms when my son was two and a half months old. A little man with a dummy in his mouth, who does not understand anything, but …
Why did it happen so?
The plot is banal to disgrace. My common-law husband is already very good with alcohol. At first everything seemed to be in order (we have lived together for almost two years). But then it only got worse.
When he found out about my pregnancy – he was immensely pleased. Literally in my arms I wore. But more and more absences from home began. On my calls, the answer was I to a friend / acquaintance popped in, I will soon. Then there were complaints about you sitting on my neck, you are not doing anything about the housework and so on and so forth.
Things reached the point that he began to raise his hand to me. I, being in the eighth month of pregnancy, once again did not please him. First, the glass in the door flew in different directions, then my hairpins, creams. Then there was the pulling of hair and slaps. In the end, he just closed me, sobbing, in the bathroom, because his friend came to him.
I suffered a very long time
Probably stupid. Understand. But, on the one hand, I hoped for the best. By the birth of a child started repairs in the apartment, I was acquainted with all his friends, I knew his parents. Just decided not to sign. The limit of patience came later.
When all my stay in the hospital was provided by my mother. And this oh how expensive. Even by the standards of four years ago. And the constant help is the products, the clothes from my and his parents. I asked him to encode.
At my requests, the answer was in the spirit of: well, I will not drink for a year or two, but then, when I fall, it will be even worse.
So it went on until, on one terrible day, in his insane state he brought my mother to a nervous breakdown. She just came to visit me, helped the child to bathe, and just sat for tea in the kitchen. And he came from another friend and began to carry. As a result, the mother was taken to the hospital in an ambulance.
I went with her, literally on my knees, begging him to look after the child. Late evening – where to pull the crumbs? Home returned hours to twelve. Entering the apartment, I observe a picture – the child is torn in the crib, and my beloved lounged on the bed, not bothering not to take off his jacket, but even to take off his shoes.
Having calmed the baby, I try to somehow reach out to the body consciousness. What they say to me in abusive terms that I am nobody here and call me in any way, and I can roll on all four sides. I collect things in tears – baby food (my milk disappeared after one of these concerts), diapers, some diapers. I take the child and move to the exit.
He flew back suddenly. He began to pull out of my son's hands. Trying to push him away, I fly out into the corridor. Nothing better occurred to me than to start yelling in a bad voice. Fortunately, some company rested under the porch.
While the guys of my beloved pacified, I jumped out and rushed, wherever they looked. On the shoulder is a bag with children's things, a screaming son in his arms, a phone in his pocket and a little money. Barefoot. The end of October.
Having jumped into a taxi, I simply asked the driver to drive as fast as possible, and where it is already the tenth thing.
I spent the night then with a friend. The next day, came to her parents. Tantrum, crying. Nothing – reassured, accepted. Only here I am with my spouse, as it turned out, not only forgot all my things, but also my passport and birth certificate of the child.
He called all night. I just turned off the phone. And when I asked for documents, I refused outright. I, without thinking twice, wrote a statement to him to the police. The district police officer somehow did not move too much – at that time there were still some elections there, in general, not up to the authorities.
Upon learning of my slander, his mother rolled up to my parents' house. She returned the documents to me, asked me to return to her son and swore that she would send him to the doctor this very hour. I refused. Here is the next turn for me was a surprise. Not having received the expected, this woman began to throw mud at me.
According to her, I am a terrible bastard, a shrew and in general – me on a fire. And this is because of me, her little son began to drink up. Charming.
Since then, I have only seen my ex a couple of times. For two years he gave his son a bicycle. And then last year some kind of machine. Everything. In my direction does not look like I'm an empty place. I'm not mad. Find the one who will endure drunken beatings and kiss his feet – for God's sake.
My health and the health of MY child are more important to me.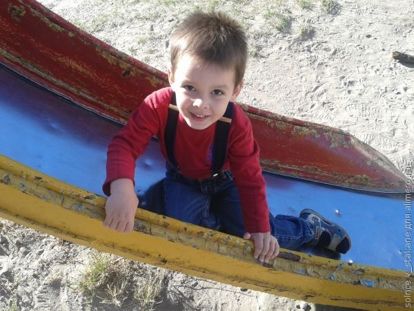 Now I live with another person. What can I say – a son is drawn to him a lot more than to his own father. They are two interesting, they can always find a common language. But … in the vocabulary of my child there is no word dad. Absolutely not. My boyfriend's child is either called by name or uncle. And none of the two of them is straining.
My men get along great.
And everything is good, but such a strange attitude disturbs me. Okay, he doesn't need a relationship with me, but forget about his own child? And his mother did not want to see the only grandson?
Former now thirty six. I doubt that he will start a family and he will have children. Maybe I have a persecution craze, but … will this peace not end up sideways later?