Cats. How much has been said about them. The cat can be made in a private house or in an apartment. It is easy to care for her, especially if the animal is familiar with the rules of the toilet. For as long as I can remember, we always had cats in the house. Now in my family, this charming animal takes pride of place.
Cats do not often change at home. But it so happens that the animal dies or falls ill. The last cat Ryzhik was poisoned. Nobody poisoned him specifically, in the fight with mice, I mostly rely on the cat. But the neighbors at that time did not have a cat: that was my favorite.
For a long time without a cat, I could not and immediately began to find out from relatives, who does not have a kitten. A week later we were brought a wonderful Siamese kitten – a boy. He was only a month old. I immediately prepared the box, put an old soft sweater into it and put a plastic bottle with hot water. Next to the new dwelling she put the pot. Kitty was already a scientist and got along with the pot immediately.
Murzik was offered warm milk, but he was full and politely declined. My one-year-old son immediately noticed the kitten and began to follow him. He pointed at him with a finger, called C-to-C, and in general was delighted with what was happening. The kitten climbed behind the fridge and watched with interest as the handles pulled toward him. Surprisingly, the child did not even cry, that he could not get it.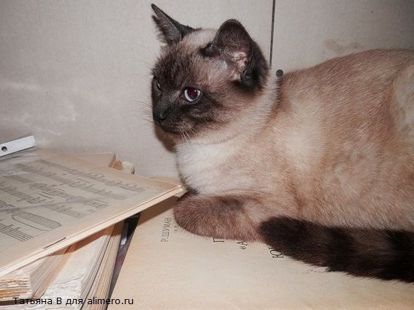 Then my son got tired and fell asleep. He fell asleep and the cat behind the refrigerator. When he woke up, Seryozha ate (he was still breastfed) and remembered the new household. He began to call the kitten Kk and show on my chest. I had to explain that animals should eat from a special cup. The kitten also got hungry and came out from behind the fridge. The son showed where his cup was. Murzik ate. And so began their friendship.
All my children love to play with a cat. He does not resist and behaves naturally. When they take him in hand, he begins to shrink, his sleepy eyes narrowed. For the whole year that Murzik lives with us, he never scratched anyone. And who said that Siamese cats are vindictive and evil?
When the little son is offended by something, he comes up to the cat, hugs him and complains. Murzik patiently listens to him, then comes up to me and starts to meow. What to say, I even have to make excuses in front of a cat (just kidding).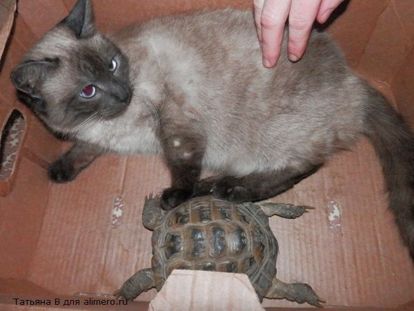 The eldest daughter is engaged on the piano. The cat is its regular listener, a sort of animal fan. He lies on the lid of the piano and listens attentively to music. Errors and loud noises do not irritate him, he relaxes and begins to purr.
It can be wrapped in diapers and rolled in a toy carriage for dolls. Serezha himself chases the stroller with passion, and the cat does not resist. As soon as Murzik ceases to like the game and he gets bored, he hides in the bathroom. There he has a secret place. He climbs into the box to the turtle, which is now in hibernation.
A cat sees off children every morning. When they are ready to get into the car, Murzik jumps out of the house and begins a whole performance: jumping from tree to tree and tumbling along the ground, which causes Serezha's enthusiastic cries. That is such a friendship.