As I mentioned in past topics, my half-year daughter learned to crawl. She crawls very funny: the handle has not yet learned to move correctly. She moves like a caterpillar.
Crawling this way she does very quickly. In a matter of minutes, she crosses the room. Several times I had to catch her in the kitchen and in the hallway.
If earlier I could afford to wash the floor in an apartment 2-3 times a week, now I have to do it every day and sometimes twice a day. We have a cat living at home, the wool from which the apartment is indecent a lot. And the shreds of this wool are much more interesting for the baby than the brightest toys.
Another problem with the cat is that after meeting the need, he proudly walks with wet paws around the apartment where the child is crawling at this time. As soon as I notice this, I immediately liquidate my daughter in the crib, and my floor itself. The apartment is becoming cleaner, and I, accordingly, calmer.
Now I dream to get a steam cleaner. Of course, the thing is not cheap. But, thanks to the water temperature up to 150 degrees, it helps to get rid of germs, which is especially important for families in which there are little lovers to try everything to taste.
An acquaintance of mine daily washes the floor with a housetostos diluted in water, ostensibly for disinfection. I don't know if she does the right thing or not, but for some reason it seems to me that chemical agents can be much more dangerous than cat wool. Therefore, I use them very rarely and never do this in the presence of a child.
I would gladly get rid of the carpet in the room, but I cannot do it because of the cold in the apartment. Now her husband knocks him out every Sunday.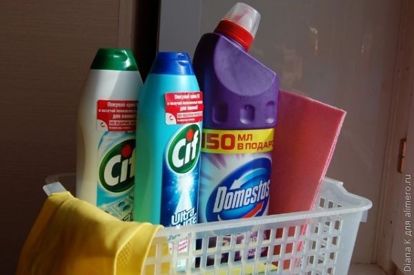 We remove small parts
Since I have an older daughter, the presence of small toy figures on the floor from the buzzers, designer parts and puzzles is not new to us. Every time I remind my daughter that immediately after the game she would collect all the toys in places and, if possible, play with small details at the table.
If we consider that the daughter turned over on her belly for the first time in a month and a half, she can climb her legs at any moment 🙂 Therefore, I'm already afraid to leave something small on a coffee table or a sofa. In addition, this little thing can throw a cat on the floor. Therefore, I teach my husband and daughter to put small things higher.
With the advent of the child, I began to wash the curtains much more often. As you know, they collect a lot of dust. I try not to be lazy and wash them 2-3 times a month.
Do you think that with the advent of a child, you should protect him from microbes and bacteria as much as possible, or should you not make him a greenhouse plant?