Proven efficacy: do I need a vaccine against pneumococcal infection in children and why?
Pneumococcal infection is especially dangerous for young children and is a complex of various diseases caused by the bacterium pneumococcus.
This category includes: arthritis, sepsis, purulent meningitis, acute otitis media, pleurisy, endocarditis, etc.
These diseases can lead to serious complications and dangerous consequences in the future. Annually, more than 1.5 million children suffer from pneumococcal disease.
It should be said that the bacteria responsible for the development of infection are normally present in the body of each person. They are localized mainly in the upper respiratory tract and until a certain moment they do not carry danger.
Activation of the bacterium usually occurs after the transfer of colds, measles, influenza and otitis. Therefore, infection with pneumococcus is better prevented.
To do this, young children are injected, which have recently been considered mandatory in Russia.
there is the category of children to whom pneumococcal injection is not only necessary, but vital. It:
children with immunodeficiency status (malignant blood diseases, HIV infection, etc.);
children with severe chronic diseases (obstructive bronchitis, diabetes mellitus, liver and kidney disease, sickle-cell anemia);
babies with congenital anomalies of the spinal cord and neural tube.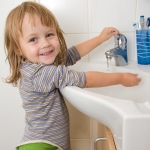 What is the prevention of intestinal infections in children? We'll ask the doctor!
What drugs are better to treat giardiasis in a child? Learn more from this article.
On the treatment of allergic deramatitis in children read in our article.
Possible reactions to pneumococcal injection in children and side effects of vaccination:
in rare cases, inflammation, irritation, redness, itching and rash at the site of vaccination, which can be accompanied by pain;
enlarged lymph nodes;
increase in body temperature up to 37 C;
nausea, vomiting, diarrhea, impaired appetite;
during the day after the injection, the baby can be nervous, irritable or on the contrary, flaccid and apathetic.
If symptoms persist for more than 2 days, the baby remains sluggish, and the body temperature is above 38 C, then this is an occasion for immediate medical attention.
It is very important and care for the wound formed after the injection. To wet the vaccination area, unlike the rest of the vaccinations, it is possible, but it is forbidden to treat antiseptic preparations such as green and iodine.
Not recommended also stick a band-aid and do compresses.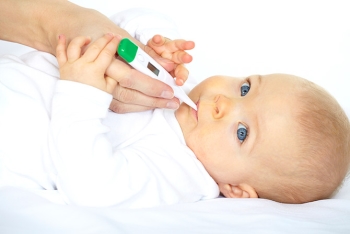 Complications and consequences of pneumococcal vaccination for children are possible, but in rare cases and non-compliance with contraindications. Among them are:
increase in body temperature up to 40 C;
a sharp deterioration in the form of an exacerbation of an infectious disease;
exacerbation of present chronic diseases.