Effective and cheap antibiotic Tetracycline ointment: instructions for use for children since birth
Tetracycline ointment is the drug that is prescribed to many patients. The greatest attention should be paid to the drug when used to treat children.
What does it consist of, can it hurt a child? Can I use tetracycline ointment for children up to a year, 2-3 years?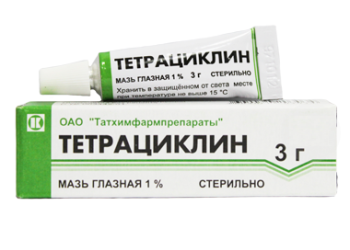 In the treatment of infectious diseases, pediatricians and other doctors often use tetracycline ointment, as the remedy effectively fights most pathogens.
Use it for infectious diseases of the skin and inflammatory processes in the eye area.
Parents are interested in whether it is possible and at what age the therapy is allowed Tetracycline ointment for children.
Instructions for the use of tetracycline ointment for children clearly states that it is not possible to use if the child is not 8 years old.
But in some cases, when the body does not cope well with pathology with the help of other medications, doctors prescribe an external treatment with a group of tetracyclines.
However, an independent choice of such treatment is prohibited, the amount of medication applied and the number of daily applications should be chosen only by a doctor after a careful examination of a small patient.
The active substance of the drug – tetracycline hydrochloride, an effective antibiotic from the extensive Tetracycline group.