Immunomodulating drug for children; Polyoxidonium: instruction on the use of various forms of release, as well as as drops in the nose and injections
Polyoxidonium is a medicinal product actively used by mothers of often ill children. The use of polyoxidonium increases the effectiveness of the treatment, as well as shortens its duration, reduces the use of bronchodilators, antibiotics, glucocorticosteroids, and increases the duration of remission.
In the article you will get acquainted with the instruction on the use of Polyoxidonium: whether it is possible to give the drug to children and how to do it correctly, and also what form of the medicine is suitable for this or that age category.
Forms of release of Polyoxidonium for children can be as follows: tablets, suppositories and lyophilizate. There is one active ingredient in the composition Azoxime bromide. The additional components are different.
The tablets are white, yellow and orange in color and flat. One tablet contains 12 mg of the active ingredient. Tablets are produced in contour cells with a quantity of 10 pieces, which are packed in cardboard boxes.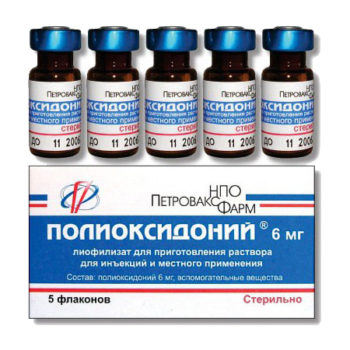 Lyophilizate is a powder of Polyoxidonium for children, from which the solution is prepared, following the instructions for use.
Its color is white and yellow. Available in ampoules and vials.