Symptoms and treatment of chicken pox in children, photos and disease detection
Wind chickenpox (popularly called chickenpox) is called an acute infection, the characteristic symptom of which is a skin rash in the form of small vesicles. According to statistics, 9 out of 10 adults suffered an infection in childhood.
Consider the first symptoms and subsequent signs of chickenpox in children, possible complications after the illness, photo rashes, treatment regimens and many other useful information.
Its name was given to chickenpox for a very rapid spread. The child becomes ill when the body gets airborne herpes virus of the third type, which is so large that it can be seen even in an ordinary light microscope. The virus is present in the fluid filling the vesicles, about 3-4 days.
The source of infection is a sick person. It is possible to get infected and from a long and close contact with a patient suffering from shingles. The mother can transmit the infection to the fetus.
The incubation period of chickenpox in children lasts 7-21 days. The child becomes infectious, starting from the tenth day of the incubation period and up to 5-7 days after the appearance of the first rash. In the external environment, the pathogen lives only 10 minutes. He dies from sunlight, high temperatures, ultraviolet radiation. The disease is unique in that the susceptibility to it is 100%.
To strengthen the body's defenses, the patient is given vitamin-mineral complexes, plant adaptogenes, prescribe metabolic therapy. For the next 2 months they refuse vaccinations.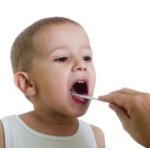 Signs, treatment and prevention of diphtheria in children; all that parents need to know!
How to recognize acute bronchitis in children, what are the symptoms and treatment of this disease, you learn on our website.
What is gingivitis in children, what to treat and how to help your baby, read here.
Usually, the course is favorable: almost in all cases, complete recovery is achieved and stable immunity is formed. But in some people, the virus remains in the intervertebral nerve nodes and is activated several years later in the form of herpes zoster.
Infection in rare cases is complicated by pneumonia, myocarditis, local inflammation of the rash, after which scars remain on the skin, and even with reduced immunity it even leads to sepsis. The latter concerns adults more.