Features of nystatin ointment; instruction manual for children
Fungal diseases usually develop in people who, for one reason or another, have weakened immunity. They often appear after the transferred infections, the treatment of which included taking antibiotics, as well as in elderly people and children.
The treatment of small children with tablets always causes some difficulties, so doctors recommend using other forms of medicines, for example, ointments. One of the proven and affordable antifungal agents is Nystatin.
We offer a detailed instruction on the use of Nystatin ointment for children.
Nystatin ointment belongs to the group of antifungal drugs. Its fungicidal, that is, destroying the pathogens of fungal diseases, the effect is provided by nystatin – an antibiotic, a derivative of Streptomyces noursei.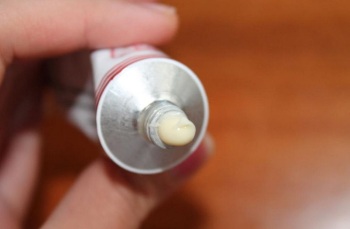 This antibiotic is designed specifically to combat candidiasis and other fungal diseases.
Nystatin is able to destroy the membrane of the fungus, which protects it from the external environment, disrupt the respiration process and thereby lead to the death of the fungus.
However, this antibiotic does not harm the beneficial microflora of the human body, because bacteria are not sensitive to it.
One of the most effective forms for external and topical application of nystatin is ointment. In its composition, in addition to the antibiotic, petrolatum and lanolin are contained.
Application of ointment on oral mucosa:
Wash hands thoroughly, prepare cotton buds, ointment.
Arrange the child so that he and you are comfortable.
Ask the child to open his mouth or gently open the mouth by himself.
With a cotton swab clean and dry the mucous membrane.
Another cotton swab take a small amount of the drug and apply to the wound.
Application of ointment with candidiasis on the genitals: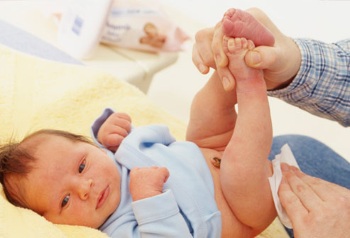 Wash hands thoroughly, prepare cotton swabs or disks, warm boiled water, ointment.
Put the child so that it was convenient, and you could perform the procedure, it is better to put a waterproof oilcloth or absorbent diaper under the baby's ass.
Bend the child's legs in the knees, slightly to the side.
Girls - gently dilute the labia, the boys - push the foreskin, if possible (in children often there is a natural phimosis, in which this action is difficult, you can not make an effort, it can lead to injury).
A cotton swab dipped in warm boiled water, remove the white coating.
Another cotton swab to dry the surface, do not rub at the same time, just blot.
Apply a medicine to the damaged surface with a finger or a cotton pad.