Methyluracil ointment for treating skin pathologies in children: instructions for use and efficacy
Methyluracil ointment is often used for trauma or pathology of the skin.
How effective is the drug? It is necessary to find out the appropriateness of using it for the treatment of children.
What does the preparation consist of? How does it work and what contraindications does it have?
From what age can you use, how much is it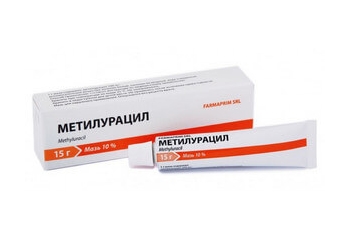 Methyluracil ointment is a non-hormonal regenerating agent.
The cost of this medication varies in the range from 35 to 250 rubles, depending on the volume of packaging and the region of purchase. Cheapness and simultaneous effectiveness of it for adults, raises many questions.
Many young mothers, knowing about the saving preparation, helping to get rid of cracks on the nipples after feeding, whether it is possible to treat the skin or mucous membranes?
The annotation to the drug refers to the dosage of ointment relative to children over the age of three.
The drug is classified as a group of synthetic immunomodulators, there is an opinion that the children's organism easily falls into dependence on such substances, they are usually allowed to use children after reaching one and a half years.
In this case, the condition must be met that the baby has no hypersensitivity to the components of the remedy. Choose a reduced number of times the amount of medicine, closely monitor the body's response to it.