High efficiency and low cost! Pectusin for children: instructions for use
Pectusin is a fairly well-known budget medicine for cough, ARVI, bronchitis, tonsillitis, laryngitis, tracheitis and pharyngitis. It is recommended to use it immediately with the first symptoms – this will give the maximum effect. You can not treat them children, less than 7 years.
Contains menthol, eucalyptus oil, they help to facilitate breathing, to remove irritation of the mucous membrane of the larynx.
Virtually does not contain the chemistry, which many parents fear, for treating children it fits well. This is a considerable advantage over antibiotics.
From this article you will learn whether it is possible to give pectusin tablets to children and at what age, you will get acquainted with the parents' responses about a child's medication.
Active ingredients – menthol, eucalyptus oil. Additional substances – talcum, sugar, sodium salt of CMC, calcium stearate.
Physico-chemical characteristics: white tablets, with a fragrance of menthol and eucalyptus.
Form of issue: Pectusin is produced in tablets, in a blister, in a paper shell. The package contains 10 tablets.
Medicinal form – tablets sublingual use (under the tongue).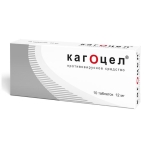 If you are interested in the age of giving Kagocel, read our article.