General analysis of blood in children: normal indices and their interpretation in the table, the value of deviations
A lot of children's and mother's tears are shed when giving blood for a general blood test (KLA).
But as a result of the research, a doctor becomes aware of the health of a small patient, this is one of the most frequently used tests.
Let's consider the main issues related to this analysis, so that the results would be as reliable as possible and all efforts of people participating in blood sampling would not be wasted.
How correctly to give the general analysis of blood (KLA) to the child, to do it on an empty stomach or not, whence it is taken and what it shows: these are the most frequent questions, which we will try to answer below.
Preparation for research, how and when to take
The normal parameters of a general blood test in children may differ depending on the the time of day of the analysis and how much the child is fed.
Another important thing is that if during a period of one illness the baby donates blood more than once, it is highly desirable to do this the same way – or each time hungry, or every time fed, at the same time.
Consider that it is much easier to agree with a fed child.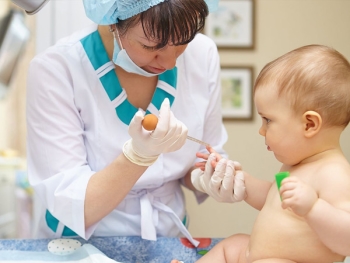 From the vein, the blood is taken with a syringe, from the finger; or scarifier, or lancet.
The scarifier is a special shape needle, it must be individually packaged.
Lancet – more difficult and expensive, when using it, the pain is minimized, and the likelihood of bringing the baby next time to the laboratory without hysteria – repeatedly increases.
No matter how hard it is to get distracted from the child and his anxieties immediately before this procedure, but try to do it.
You must be sure that the laboratory assistant, who works with him, uses rubber gloves, which disinfects after each patient, or, even better, works in disposable gloves.
Do you want to know if immunostimulants should be given to children? Opinions; for; and; against; are presented in our review of popular drugs.
A review of effective vitamins for improving immunity in children is presented in this article.
And here we will talk about what vitamins to give a child for growth.
After receiving the material for analysis, certain of its indicators are investigated. The list of these indicators for UAC is given in the form, the form of which was approved in 1980 by the order of the Ministry of Health of the USSR.
This analysis demonstrates:
erythrocyte sedimentation rate (ESR);
and other indicators, which we now consider in more detail.