Cedex antibiotic for children in the form of a suspension: instructions for use, advantages and disadvantages of the drug
To sick children with bacterial infections it is important to choose an antibiotic that would solve several problems: it struggled with infection, was well tolerated by the baby's organism, had a convenient dosage form, ideally it had a pleasant taste.
One of these drugs is produced by the American company Merck Sharp Dohme, Corp. The product was named Cedex (CEDAX).
For children from 6 months to 12 years (if the child's weight exceeded 45 kg) Tzedeks released in the form of powder for the preparation of suspensions from dark yellow to light yellow color.
Smell – characteristic, cherry, which is transferred to the solution. The active substance is ceftibutene (ceftibutene dihydrate is used).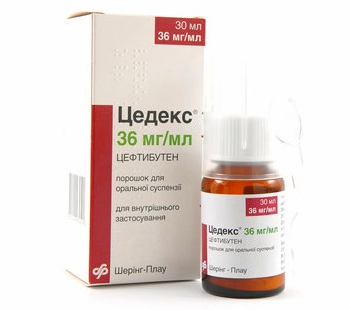 Also included in the powder: simethicone, xanthan gum, polysorbate-80, silicon dioxide, sucrose, E211 (sodium benzoate), cherry flavoring.
Powder is packaged in dark glass bottles with a capacity of 30 ml. In one bottle – 8.3 g of powder. Also included are a measuring spoon and a glass for accurate dosing.
According to the instructions for use, the suspension Tsedeks for children are prescribed for infections, whose pathogens are sensitive to ceftibutene, namely:
diseases of the upper respiratory tract, including pharyngitis, tonsillitis, scarlet fever;
Complicated (arising from a background of other disorders or concomitant diseases) disorders and uncomplicated ailments of the urinary tract;
gastroenteritis, enteritis, the causative agents of which are salmonella (salmonellosis), shigella (dysentery), E. coli (colibacillus, escherichiosis).