Gel Kinder Biovital: an effective and safe multivitamin preparation for children
Vitamins and minerals are extremely important for the human body, especially when it comes to babies that grow and develop, and require a large number of nutritional components.
If they are not enough, the child's immunity may worsen, which can lead to various diseases.
One of the popular multivitamin preparations for children is Kinder Biovital in the form of a gel, designed specifically for young patients.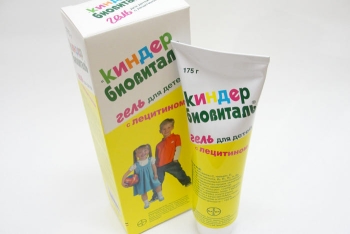 The agent is an oral homogeneous gel. It has a viscous consistency, a light yellow color, and when squeezed out, you can notice in it a lot of air bubbles.
A drug has an orange smell and sweet and sour pleasant taste.
The active components in the gel are retinol palmitate, colcalciferol, calcium pantothenate, ascorbic acid, alpha-tocopherol acetate, cyanocobalamin, nicotinamide, riboflavin, thiamine hydrochloride, pyridoxine hydrochloride, calcium phosphinate, lecithin, soluble manganese citrate.
Among the auxiliary components, it is necessary to isolate sucrose, ethanol, red orange flavor, vanillin, isopropyl myristate, sodium carboxymethylcellulose, sodium benzoate, potassium sorbate, and demineralized water.
The agent is placed in an aluminum tube with a capacity of 175 grams and packed in a cardboard box. Keep it at a temperature of less than 25 degrees. Shelf life is two years.