The right remedy for the treatment of the dysbiosis Acipol: instruction for use for children, advantages and disadvantages
Dysbacteriosis is a pathological condition of the intestine, in which the balance of useful and conditionally pathogenic bacteria is disturbed. Symptoms of dysbiosis are digestive disorders, stool changes, weakness and poor appetite.
Especially common is the pathology in children under 1 year old – during this period there is an active formation of digestive enzymes and intestinal microflora, which begins to be populated with bacterial microorganisms.
If the doctor suspects a child of dysbiosis, the baby is assigned a feces analysis. After confirmation, a therapy that takes into account age, individual characteristics and chronic diseases is selected.
The drug of the new generation, designed to restore the normal balance of the intestinal flora, is Acipol. If necessary, it is prescribed even to newborn children, since the remedy is mildly effective and has almost no contraindications.
In this article, we will consider in detail the instructions for the use of children's Acipole, as well as provide feedback from parents and the average price of a medicine in Russia.
Acipol is available in the form of capsules with a gelatinous membrane, in which a powder of cream color with a weak sour-milk smell is placed.
The capsules of Acipol include (per 1 capsule):
acidophilic milk bacteria live – not less than 107;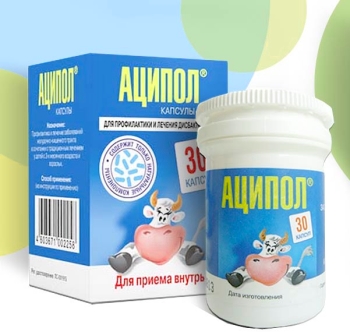 The therapeutic effect of the drug is determined by the constituent components.
Lactobacilli. Live useful microorganisms contained in Acipole, positively affect the intestinal microflora, suppress the growth and reproduction of pathogenic bacteria, promote the improvement of the gastrointestinal tract.
Kefir fungus. Strengthens the immune system (including local immunity), revitalizes the intestines, improves the nervous system and general well-being.
Instructions for the use of Acipole for children indicate that capsules are used to treat dysbiosis and its prevention, as well as with diarrhea and constipation, taking antibiotics.
The drug is prescribed as part of complex therapy to treat conditions that can lead to a violation of the intestinal microflora.
In the instructions to the medicine it is said that it can be taken by children from the age of three months, but pediatricians believe that, if necessary, it can be prescribed even during the period of newborn.
Capsules Acipol are packaged in two types of packaging:
a pack of cardboard (blisters) containing 30 capsules.