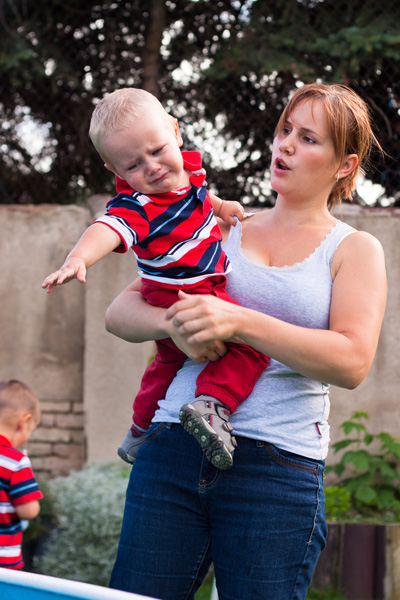 All parents are daily faced with the need to say "no" to a tiny baby, who looks at them with pleading eyes and begins to cry sharply. However, this does not mean that you must surrender and give it up in everything. On the contrary, the sooner you establish the rules that guide and protect the child, the faster he will grow up.
By 6–7 months old, babies most of all love to tear off glasses from grandma's nose and pull at her mother's necklace.
This is perfectly normal, they are just going through that period of development, when they want to explore unfamiliar faces, try to stick their fingers in their mouths, nose, ears and pull the shiny and such attractive decorations for them! You should not allow your child to behave in such a way and laugh at him.
It is better if you gently but firmly take his hand away and, having made a disapproving face, say: "No, this is a good thing, I really value it, if you pull at it, you break it, and I will not like it!" at the age of more than 6 months, having heard such an explanation, is able to realize that it is impossible to do this, and will turn its attention to toys and rattles. The mimicry of the parents in combination with gestures will make him stop.
From the age of 12 months, the "epistemological" impulse drives the child's behavior (this too complex expression explains that the child is eager to gain new experience, wants to explore the world around him, move, walk, touch everything). This desire for independence and discovery inevitably puts the kid face to face with dangers.
And then you must inform the child and apply in his upbringing what psychologists call the three "no" rule: you cannot endanger yourself, you cannot endanger others and you cannot become a house despot, that is, you need to respect others and their personal belongings.
These prohibitions must be explained to the child in the form of an order at the moment when he first began to communicate with the outside world and move independently. If you do not do this, if, for example, you allow him to climb the table, he may fall and get hurt.
This negative experience will discourage him from starting anew, and the braking mechanisms will be activated, which will hinder his progress and development.
For a quick and easy assimilation of life rules and the basics of power, the baby needs to naturally and with confidence rely on adults bringing him up. Every time when something new attracted him, the child turns to the parent and looks for permission in his eyes or words to stop or continue.
If the parent calls him or looks disapproving, it will be enough for the child to obey and come back. If his mimicry is approving, if he says: "Come on, you can go!", The child gains confidence and continues his actions.
Parent and child consistently manage their actions. The power of the elder is expressed without the use of violence, and the child learns the basis of behavior, which is the basis of further relations with society.
By 2 years old, the child is inclined to think that he is the center of the universe, and only with his desires should be considered others. The famous psychologist Jean Piaget was the first to give a special characteristic to children from 2 to 7 years of age: egocentrism is inherent in them. Do not confuse with the egoism of the child, it is a way of thinking.
At this age, the child likes to take more than to give, and he would be completely satisfied if everything was for him. He considers his opinion the most important and is not able to put himself in the place of another.
This is where the whims and terrible tantrums that he suits when he is denied what he wants.
This period of self-affirmation in the development of a child lasts up to three and a half years. In the continuation of this "phase of denial," the child must resist adults and utter the word "no" in order to become a separate person and assert itself. "He says no to do the opposite! – considers child psychoanalyst Francoise Dolto. – At this point in life, it is necessary for the child to understand the limits of his omnipotence.
It is recommended to allow the child to express himself and develop his personality, but at the same time one must be able to say "no" to "no" of the child.
If the child previously learned the restrictions that protect him, now he just needs restrictions. He is not alone in the world! If possible, you should explain to the child why he should not do it, but in some cases you need to teach him the rules in a sharp way: "Stop, I told you" no "means no!", Raising his voice and making big eyes.
To make this "no" useful, you can mark a ban on time: "You are still very small, you can do it when you are big" – and then: "No, you cannot be alone, I will help you". The child will accept the restrictions in an atmosphere of goodwill and mutual trust. "
A child is more willing to accept parental prohibitions and fears, when his personal state of mind is respected, and parents are benevolent to him.
Specific rules of life in society are important for the child, but symbolic bans are necessary for him to help him realize power. At the age of the Oedipus complex, little girls want to marry dad, and little boys want to marry mom.
Love for one of the parents pushes them to take the place of a rival parent, but at the same time they feel terribly guilty, because, of course, they love both parents very much. It is important that the Oedipal desire is confronted with the incest prohibition, reported to the child by the parents, that the children do not marry or marry their parents.
When parents say no to the wishes of the child, no to his impossible fantasies, they show their power and confront the child with reality. And then the child understands that he must take into account the desires of other people. If you say no to him, you will teach him clear life rules that will help him create his own internal security.
He realizes that he is a civilized human being with the same rights and obligations as everyone.
The power of the elders is also manifested in keeping the daily routine organized by the child. In the morning we get up, get dressed and have breakfast. Lunch is at 16.30.
If the child does not want to eat it, let him not eat. Do not give him sweets or allow him to eat an afternoon snack at 18.00.
In the evening, it's time to part and go to sleep on your bed. If you teach your child these settings, supported by precise rules, the child can slowly but surely move toward independence.
It is surprising that an obedient child is much more independent than a naughty one. If you follow the wishes of all the desires of the child, he feels anxiety. A manifestation of power can reassure him.
Just do not play the role of an exemplary parent when the child was just born. Power manifests itself and grows gradually, in the interaction of the child and the parent. Bans are imposed little by little.
You can not demand from the child all at once. Parenting is not an iron hand, you should not try to "bend" the child, but help him to become a good person.
Thomas Gordon, a well-known American psychologist, the creator of the effective parents educational method, talks about the main principles and benefits of self-discipline instilled in children, even the youngest
1) Direct – do not dominate
The basic idea: it is more correct to try to influence the child than to impose his own rules on him. Why?
Because it is wrong to think that children are subject to power and strength. They only adapt to them.
There are other possible methods of education between permissiveness and control, between condescension and severity.
2) Limit the use of rewards and punishments
Changing a child's behavior through reward and punishment is a matter for professionals You have to be an experienced behaviorist to get results using the carrot and stick method.
According to the author, it is better to teach a child to understand the causes of his actions than to make him a "Pavlov's dog".
3) Bet on communication
To help your child find himself in solving a problem, you have two tools: the message "I" or, as an adult, addresses the child, expressing his personal attitude to his behavior. The message "I" completely excludes condemnation.
But by attentive, sensitive, benevolent hearing of the child, you will show him that you understood what he wanted to express. Your goal is to lead him to an independent understanding of what his behavior was wrong.
These two keys of verbal communication retain the child's self-respect and promote mutual respect.
4) Cooperate better than control
Rather than trying to get the best of the obstinate child, it is better to seek a way out of a difficult situation without loss. Cooperation does not exclude a conflict, but makes it easier to resolve it.